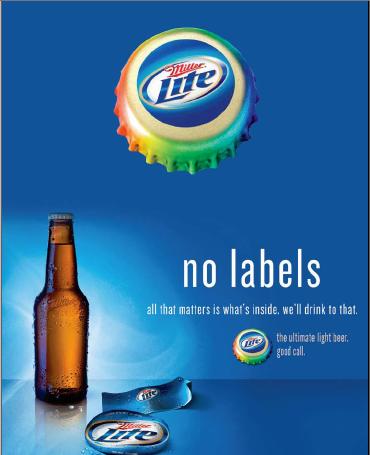 MillerCoors' ad in the official program guide of the vile and anti-Christian Folsom Street Fair in San Francisco. Would Miller advertise at an Incest Rights gathering, or proudly sell beer at a Neo-Nazi rally?
AFTAH letter sent today to MillerCoors spokesman Julian Green [contact Green at [email protected] or phone: 1-800-MILLER-6 or 414-931-2000.]:
Dear Mr. Green,
We are highlighting MillerCoor's support of and advertising at the Folsom Street Fair in San Francisco [to be held Sunday, September 28]. I am president of a conservative pro-family group, Americans For Truth (www.aftah.org). The Folsom Street Fair is probably the most extreme and debauched public event in the United States. As you can see from below and through the links on our site, it features men walking around fully nude and engaging in public homosexual orgies on the streets of San Francisco (as the police stand idly by).
Moreover, Folsom directly promotes anti-religious bigotry through its association with the anti-Catholic "Sisters of Perpetual Indulgence" and sale of ("religious") "sex toys" that mock the Christian faith.
I would like to know how much MillerCoors is spending to promote its products at, and/or to "sponsor" the Folsom Street Fair (you are not listed in the program as an official sponsor, but you have a full-page ad in it). Does MillerCoors have any ethical guidelines for events it will — or will not — promote (through ads) and participate in? Would MillerCoors sell beer and advertise at, say, an Incest Rights festival, or take out an ad in the publication of other openly bigoted gatherings such as a Neo-Nazi rally?
If you would like to discuss MillerCoor's promotion of Folsom and participation in this event, please call me. … We will be headed to San Francisco to monitor the perverse goings-on there and Miller's role at the event. Here is the link to the Official Program Guide of the 2008 Folsom Street Fair containing your full-page ad [WARNING: VERY GRAPHIC IMAGES]: http://www.folsomstreetevents.org/documents/2008_Official_Folsom_Street_Fair_Guide.pdf.
Sincerely,
Peter LaBarbera
Americans For Truth
www.americansfortruth.org
W: 630-717-7631
Cc: Pro-family leaders and media: Mission America; World Net Daily; Lifesite News; Concerned Women for America; Liberty Counsel; Culture & Media Institute;  CNSNews.com; American Family Association; Bott Radio Network; Pastor Ken Hutcherson, Antioch Bible Church; One News Now; Family Research Council; Citizens for Community Values, Catholic League
This article was posted on Friday, September 19th, 2008 at 10:41 am and is filed under
Coors
,
Corporate Promotion
,
Food, Beverage, & Household Brands
,
Homosexual Hate Speech
,
Homosexual Pornography & Film Festivals
,
Homosexual Pride Parades & Festivals
,
Miller Beer
,
News
,
Public Indecency
,
Public Sex in Your Neighborhood?
,
San Francisco
. You can follow any updates to this article through the
RSS 2.0
feed.