By Linda Harvey, Mission America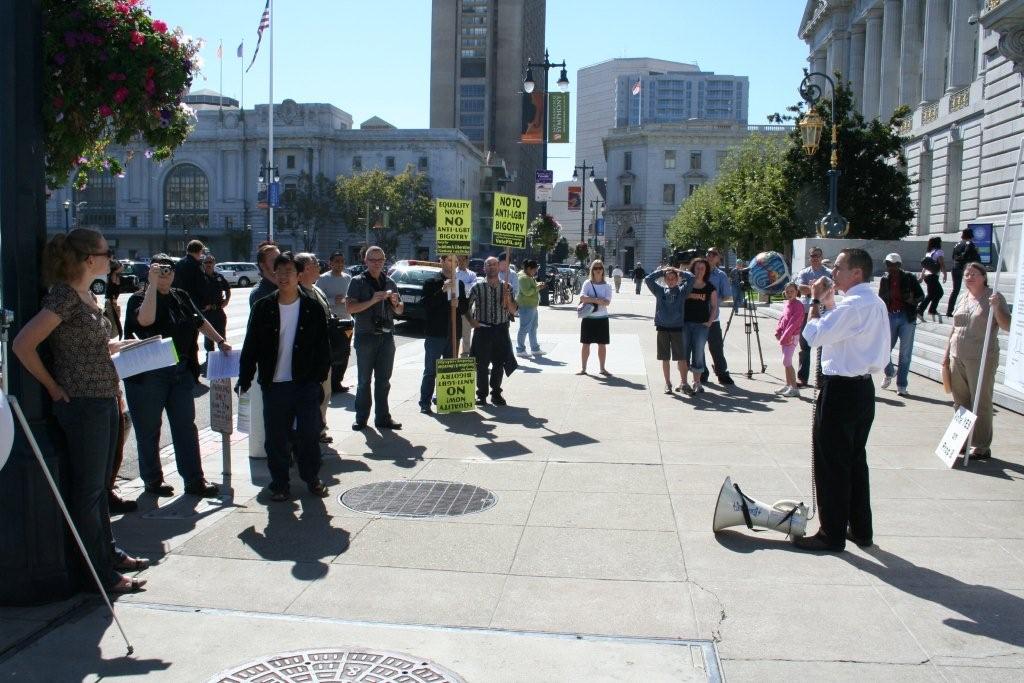 Picture this: a group of conservatives standing on the steps of the City Hall of San Francisco, holding a news conference. Several homosexual couples, dressed to the hilt, are also present with relatives/friends in tow, posing for cameras, following their same-sex "marriages." We, however, are holding signs supporting traditional marriage and a huge banner that says, "Stop Public Nudity and Street Orgies."
We aren't exactly given the keys to the city.
Reporters are present from the San Francisco Chronicle, the Examiner, and a TV station. And somehow, homosexual activists have gotten our press releases, too, because they show up with neatly printed signs: "Say No to Anti-LGBT Bigotry" and "Equality in Marriage."
This is the scene on September 26, 2008, as Peter LaBarbera of Americans for Truth, Diane Gramley of the American Family Association of Pennsylvania, Anthony Gonzalez of the St. Joseph's Men's Society and I, along with a few other sympathizers, take a very public stand against the Folsom Street Fair and in favor of Proposition 8, the California ballot initiative that, if passed, will affirm traditional marriage, overturning the ruling from the CA Supreme Court in May that allows these couples to believe themselves legally married. If Prop 8 does not pass, same-sex "marriage" could become legal throughout the United States if an activist federal court backed up by the Supreme Court misapplies the Full Faith and Credit provisions of the Constitution.
As Peter LaBarbera begins the press conference with some prepared statements, five or six aggressive homosexual activists attempt to shout him down. Some chant, "Shame! Shame! Shame on you!" which continues for a half hour. Peter proceeds nonetheless. Then Michael Petrelis, an AIDS activist, steps up next to Peter and attempts to take over the platform. Declaring his rights of free speech (while attempting to deny us ours), he waves pictures and shouts incoherently about homosexual hangings in Iran.
Finally, the police come forward and urge Petrelis to allow us to continue, and he steps aside, for a time.
Peter's message decries the upcoming Folsom Street Fair, which has received the written endorsement of Mayor Gavin Newsom. Our group also holds up an enlarged copy of the letter of congratulations to the Folsom Fair, written on the mayor's official letterhead. Folsom Street Fair officials earlier in the week threatened LaBarbera with a lawsuit for publicizing the mayor's endorsement. Legal counsel has determined such a suit would be baseless.
When Peter finishes, I step forward to speak. The clamor continues. My prepared remarks go out the window. I speak for several minutes about the concern I have for the children who were photographed at last year's Fair witnessing naked men in sex acts. I discuss California's moral pollution and child corruption. The interruptions and mockery, by this city of tolerance, continue.
Diane Gramley speaks also, followed by Anthony Gonzalez, both urging the city to re-think its embrace of immorality. Both receive the same rude treatment. I am now holding one end of the huge banner. Many people are taking pictures and taping the press conference—I am not sure who all these people are. At several points, individuals confront me and we have a discussion off to the side. One African-American "gentleman" gets closer and closer to me, shouting about how I am a bigot and hate gays, and I attempt to deny this, repeating that he did not know me and that I hate no one. Finally I ask a policeman to get this man out of my face, and the officer speaks to the man, who melts into the growing crowd.
A young bicyclist also gives me a choice finger gesture and shouts the "f" word at me over and over. He then says he hates our God. I tell him, "No, you don't. Don't say that." I tell him I'll pray that God will ignore him saying this. He shuts up. He looks like he's either on some type of drug, or he's about to cry, or both.
Peter LaBarbera moves to the side for an interview with a TV station, and as he does so, our AIDS activist friend takes center stage again, blocking our banner. He shouts about our bigotry and the Iran thing. So I move in front of him, blocking him and holding a "Yes on Proposition 8" sign. I am too close to him, so the policeman asks me to step a few feet in front of him, which I do. The activist steps to one side; so do I. He moves to the other side; so do I. He starts laughing and asks me if I want to dance. I give up and step aside, smiling a bit myself. Then after the police approach him again, he moves away.
Many side conversations begin at this point. Peter is engaged with four of the hecklers in a bold but peaceful debate. I talk for about 15 minutes with a young guy and gal who stop on their bikes. He was raised in a Southern Baptist church, it turns out, but has left all this behind. At first mocking, their attitude changes and it ends up becoming a witnessing opportunity. Finally, still seeing same-sex couples filing in and out of City Hall, we pack up our signs and leave.
The worst is yet to come, for in two days we will attend the Folsom Street Fair to enter the gates of hell— men engaging in sado-masochistic sex acts fully nude to the witness of thousands of people, on the Sabbath Day. I am told it resonates with a true spirit of evil. Yet we have seen the web site and the booth space allotted to the San Francisco Chronicle, the New York Times, the San Francisco Police Department and even one "Christian" church.
In LaBarbera's conversations with the our hecklers, he tells us later that none of them had any objection to the Folsom Street Fair, not even children being present (if their parents bring them). Perhaps this doesn't represent all the people of San Francisco. But perhaps it does.
Later, we ask each other, "In all that crowd, did anyone come up to you expressing words of support?" All our answers are the same: no.
This article was posted on Wednesday, October 1st, 2008 at 10:41 pm and is filed under
Bathhouses
,
BDSM
,
Biblical Truth
,
California
,
Candidates & Elected Officials
,
Homosexual Pornography & Film Festivals
,
Homosexual Pride Parades & Festivals
,
Leather
,
Mental Health
,
News
,
Not with MY Tax money!
,
Physical Health
,
Police & Fire Departments
,
Politicians & Public Officials
,
Public Indecency
,
Sisters of Perpetual Indulgence
,
The Bible, Churches, & Homosexuality
. You can follow any updates to this article through the
RSS 2.0
feed.