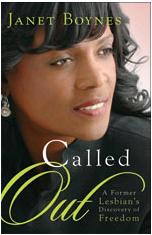 Janet Boynes' book, "Called Out: A Former Lesbian's Discovery of Freedom," can be ordered through her ministry's website.
News Release; Strang Communications; www.creationhouse.com
January 8, 2009
From a heartbreaking childhood marked by anger, abuse, and abandonment, author Janet Boynes followed a destructive path that led her into homosexuality and drug addiction. Her search for the acceptance, love, and safety she craved took her into increasingly desperate situations—ultimately culminating in a series of destructive homosexual relationships, cocaine addiction, and crippling brokenness. But, as Boynes says, "When God calls, He calls in love," and in Called Out: A Former Lesbian's Discovery of Freedom, Boynes shares her powerful, personal story of the redemptive, reconciling power of God's love, offering insight for those who struggle with same-sex attraction and those with loved ones who do.
With courage, candor, and compassion, Boynes shares her powerful story of a life transformed by God's grace and delivered to a freedom framed and powered by God's purpose. Her message is one of hope: No matter where you've been, what you've done, or what kind of situations you've encountered, God is calling you to a life of grace. Spoken with the passion and wisdom of one who's been there, Boynes says, "God knows that you have been through tough places, that life hasn't always been easy, and that things don't always go the way they should. He knows—and He cares."
Drawing from Boynes' compelling personal experience, Called Out offers insight for friends, family, and church members who are searching for a God-centered response to offer others who are feeling drawn to or are actively living a homosexual lifestyle. With practical suggestions for responding to loved ones' questions and concerns, a powerful call to prayer, and sound biblical principles, Boynes provides a road map for readers who seek to respond as Christ would, with
compassion, healing, and prayer for all who are hurting.
In Called Out: A Former Lesbian's Discovery of Freedom, author Janet Boynes challenges individuals and churches to offer the ministry of hope to those who struggle with same-sex attraction. She is the founder of Janet Boynes Ministries, a non-denominational Christian outreach that ministers to hurting people desiring to leave the homosexual lifestyle, and desires to leave a message of hope and restoration to the homosexual community. [Janet's book can be ordered through her website; bulk orders are available.]
Called Out: A Former Lesbian's Discovery of Freedom by Janet Boynes; SBN: 978-1-59779-3856 Price: $13.99; Release Date: January 6, 2009
Contact: Atalie Anderson, Marketing Coordinator | (407) 333-0600, ext. 3624½; anderson@strang.com; Creation House is a division of multimedia Strang Communications. 600 Rinehart Rd., Lake Mary, FL 32746; Phone: 407-333-0600 Fax: 407-333-7100 Web site: www.strang.com
This article was posted on Friday, January 23rd, 2009 at 12:17 am and is filed under
A - What does the Bible say about homosexuality?
,
B - Ex-Homosexual Testimonies
,
Biblical Truth
,
Gospel evangelism
,
Lesbianism
,
News
,
The Bible, Churches, & Homosexuality
. You can follow any updates to this article through the
RSS 2.0
feed.