Would he whip the city into shape?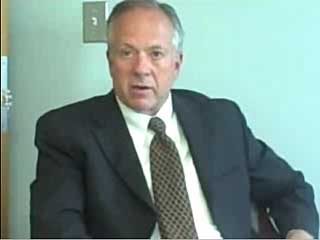 "What makes Earl different from others?" Earl Rynerson asks on his campaign website. Well, for one, he's sure to be the only candidate for mayor of Ft. Lauderdale whose credit card records show a connection to the International Masters Association, an organization created because "there was no one place where a Master or a slave could go and learn from the other members of his community." Rynerson needs God to change him before he tries to change Ft. Lauderdale. Photo from YouTube.

OK, can we all agree that its fair to call a man with ties to a sadomasochistic "master-slave" group a "pervert," or has that word been banished by the Gay Thought Police (GTP)? Good, then at the risk of offending the accomplished whiners at GLAAD (Gay and Lesbian Alliance Against Defamation), here are some excerpts from a FOX News story about Earl Rynerson, one of two homosexual men running to succeed pro-family hero Jim Naugle as mayor of Ft. Lauderdale.
Now that homosexuality is "out of the closet" in such a big way, think about how much of their related perversions are also out in the open. Deviance begets deviance, and it's all about the behavior (as opposed to that strategic euphemism: "orientation"). Note Rynerson's lack of shame below. — Peter LaBarbera
__________________________________
From the FOXNews.com report:
Gay Candidate for Fort Lauderdale Mayor Has Curious Legal History
Earl Rynerson is an openly gay businessman with a history of curious legal problems and an apparent penchant for bondage pornography. And he thinks he's just the man to be your mayor. …
Drawing more eyes is his apparent predilection for porn and his membership in an anonymous sex site. While not illegal, they are possible dark spots on the resume of man who is running a campaign to "polish up the city" of Fort Lauderdale.
Rynerson's credit card bill included at least 3 monthly payments to "Access 4M4M site," the billing name of a "men for men" sex site based in New York. "The m4m4sex website is for men looking to meet other men for sex," the Web site declares in plain English.
Another charge on his card provides a phone number for the International Masters Association, which "unites the Leather community online and [brings] Masters and slaves together," providing services for people "interested in Leather, Gear, Bondage, Rubber, Watersports [a fetish involving urination] and other fetishes."
Rynerson said the stories of his credit card purchases were greatly exaggerated, and compared the Web sites to YouTube and MySpace. "These are online services that a lot of people use," he told the Sun-Sentinel. "There's nothing pornographic … nothing to that."
He neither confirmed nor denied that he used the sites, saying it was an issue of privacy. "Whether or not I subscribe or don't subscribe to racy Web sites I think it's a personal issue," he told the newspaper. "An individual's private life and personal life should be kept private and personal." …
It's a big move in a city with a relatively weak mayor, but Rynerson originally entered the race because of comments made by incumbent mayor Jim Naugle, who angered gay Floridians with his opposition to gay marriage and controversial 2007 call to "reduce homosexual sex in bathrooms."
A city with a large gay population — and one that benefits greatly from gay tourism — Fort Lauderdale might have voted the 6-term mayor out of office even if term limits had not been imposed on him.
Rynerson isn't the only candidate who was stirred by Naugle's comments to run for office. Dean Trantalis, a former city commissioner and local gay activist, has also thrown his hat in the ring.
Click here for the full FOXNews.com story: "Gay Candidate for Fort Lauderdale Mayor Has Curious Legal History"
This article was posted on Monday, January 26th, 2009 at 11:29 pm and is filed under
BDSM
,
E - Praying for the Lost
,
Florida
,
Gay Culture
,
GLAAD
,
Homosexual Pornography & Film Festivals
,
Leather
,
News
,
Politicians & Public Officials
,
Pornography
. You can follow any updates to this article through the
RSS 2.0
feed.