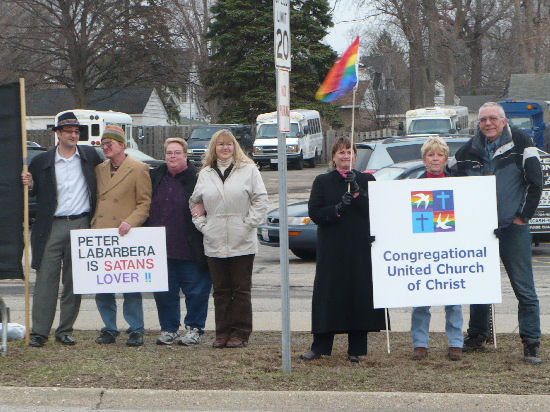 "Peter LaBarbera Is Satan's Lover" (reads sign at left) — Homosexual activists excel at name-calling — all in the name of "tolerance," of course. At left and below, protesters with the Congregational United Church of Christ and the far-left Gay Liberation Network (GLN) protest outside Christian Liberty Academy in Arlington Heights, Illinois — where AFTAH's Peter LaBarbera gave a talk on the homosexual lobby's threat to religious freedom [Click HERE to listen to the speech online]. Click here for GLN's hateful and inaccurate story: "Protesters Counter Illinois [sic] #1 Anti-Gay Bigot Tonight in Arlington Heights."  Click on photos (obtained from GLN website) to enlarge.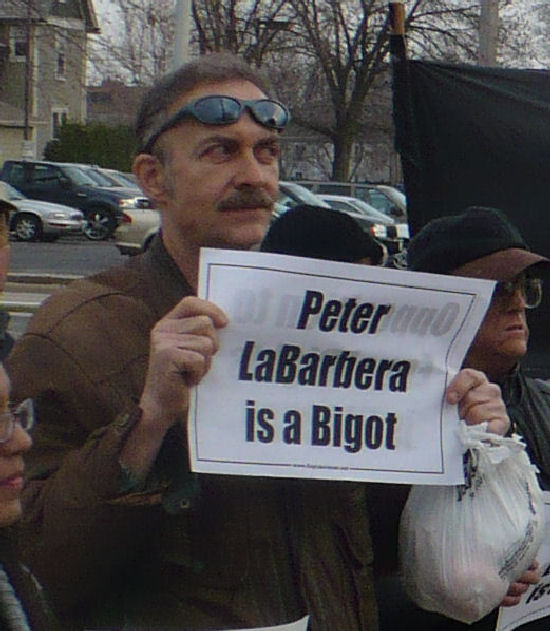 Dear AFTAH Readers,
The following is an account by my good friend Dave Smith of the Illinois Family Institute, on the leftist "queer" protest last night against my talk at the Christian Liberty Academy [listen to the speech or download it HERE]. I've been called a lot of nasty names in the last 15 years by loving and tolerant homosexual activists, but "Satan's Lover" is certainly at the top of the list in terms of perverseness! Oh well, comes with the territory. Per the usual, Gay Liberation Network (GLN) — a far-left homosexual group in Chicago that once slandered Chicago's historic Moody Church as a "House of Hate" — lied about the number of people who attended the talk (30 as opposed to 80-90).
Also note that GLN is on record supporting Wright State University's banning of a Christian Bible group because it would not sign the university's "nondiscrimination" policy — which would force it to violate its Christian teachings against homosexuality. Dave is right: the "Queer" Left is itching to take away our First Amendment freedoms, and it's up to you and me to stop them. Stay strong. — Peter LaBarbera, www.americansfortruth.com
Dave Smith of Illinois Family Institute writes:
_________________________________________
Name Calling is O.K. for Anti-Christian Radicals3/24/2009 12:22:00 PM
By David E. Smith, Executive Director –Illinois Family Institute

Last night I joined approximately 80 to 90 other concerned citizens in Arlington Heights to listen to pro-family advocate Peter LaBarbera talk about the homosexual agenda and our diminishing freedom of conscience. Peter is the President of Americans for Truth About Homosexuality, an organization dedicated to exposing the homosexual activist agenda.

He did a fantastic job! (Listen to it online or download it HERE.)

As usual, there was a tiny group of homosexual protesters from the Gay Liberation Network. These activists follow LaBarbera to many of his speaking engagements in order to harass and intimidate anyone who dares to disagree with their pro-homosexual propaganda.

Ironically, some in the group chanted "love thy neighbor" while one of their compatriots carried a sign that said "LaBarbera is Satan's lover." [See the photos at top and bottom of this story.]

This is the same small group of intolerant, anti-Christian radicals who stood outside Bishop Larry D. Trotter's Sweet Holy Spirit Church on Chicago's South Side, yelling, "BORN AGAIN BIGOTS, GO AWAY" and other slogans designed to demonize people of faith who, like Trotter, stand up for God's design for marriage.

This is the same small group who protested Moody Bible Church and Catholic Cardinal Francis George's home as "Houses of Hate." Defending biblical sexual morality is not prejudice, and defending natural marriage is not "hate."

Make no mistake, radical, anti-Christian groups like the Gay Liberation Network would like nothing more than to use the heavy hand of government to censor LaBarbera's work. They and other leftist groups are working to quash our First Amendment rights to freely exercise our religious faith.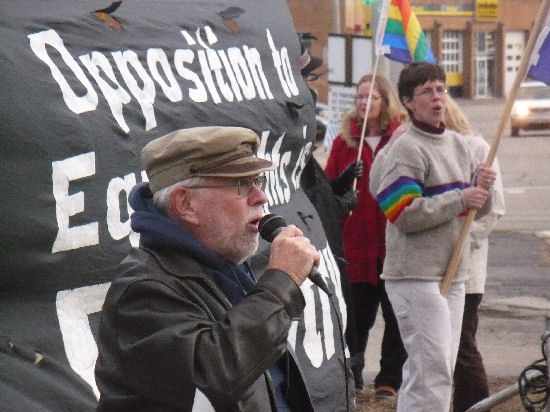 The Lies of the Left: Bob Schwartz of the hard-left Gay Liberation Network's (GLN) rails against Peter LaBarbera and Americans For Truth, outside the venue where LaBarbera discussed the threat that the "gay" agenda poses to religious liberty. Schwartz claims to be against censorship yet he applauded Wright State University for banning a Christian group from campus. Per the usual, GLN lied about the number of people attending the speech at Christian Liberty Academy, in Arlington Heights, Illinois. Listen to LaBarbera's talk or download it HERE.
This article was posted on Tuesday, March 24th, 2009 at 7:45 pm and is filed under
A - What does the Bible say about homosexuality?
,
Bible
,
Biblical Truth
,
Christian Persecution
,
D - GLBTQ Pressure Within Churches
,
Evangelicals
,
Freedom Under Fire
,
Gay Rights vs. Others' Rights
,
Homosexual Hate
,
Illinois
,
News
,
The Bible, Churches, & Homosexuality
. You can follow any updates to this article through the
RSS 2.0
feed.