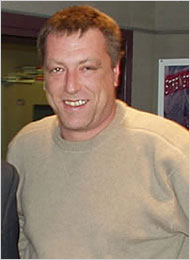 New York ABC radio reporter George Weber, 47, was murdered by a young, self-described "sadomasochist" with whom he had hooked up for sex on Craigslist.com. A former homosexual, David, who has become a friend of AFTAH, says hook-ups, anonymous sex and "instant gratification" are "part and parcel of the male homosexual lifestyle."
Folks, the greatest threat of violence to homosexual men comes from … other homosexual men. The stabbing murder of WABC reporter George Weber in New York is a terrible tragedy and yet it is instructive about the perils of promiscuous "gay" life. There is simply nothing that approaches the deviance of male homosexuality — especially at its sexual fringes — as other victims of gay-on-gay violence over the decades testify from the grave.
The New York Times reported March 24:
Officials said the teenager apparently answered a Craigslist ad in which Mr. Weber, 47, sought a sexual partner. The police believed Mr. Weber planned to pay [John] Katehis for sex. The police commissioner, Raymond W. Kelly, said that the two had arranged to meet on Wednesday, March 18, but rescheduled the meeting for Friday evening.
We don't have all the details, but surely Mr. Weber — despite being a reporter — was unaware that he was meeting with a16-year-old satanist, John Katehis, who described himself on his MySpace page [see it on Gawker.com HERE] as an "extremist, an anarchist and a sadomasochist." One can only wonder how this mere boy came to identify himself as a "sadomasochist," but the New York homosexual and "leather" subculture surely played a role. Evil ideas — like linking unnatural sex to violence and humiliation — have evil consequences.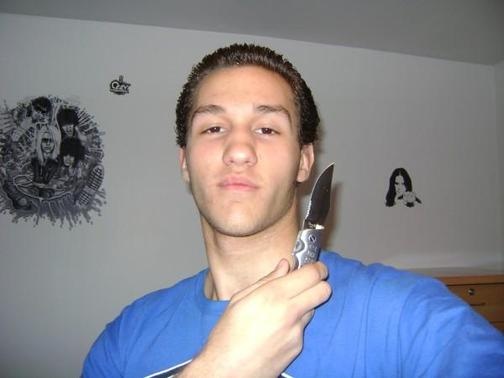 Alleged murderer John Katehis' (left) MySpace profile was: "Buying swords, playing video games, fighting, and sex." Click on photo to enlarge.
Here is part of Katehis' bio posted on Gawker .com:
My name is John, I am sixteen years of age and live in Queens, New York. I enjoy long conversations, drinking, bike riding, hanging out, roof hopping, hanging off trains, any type of Parkour exercise, Extreme Violence (chaos, Anarchy, etc.) Video Games, Violent Movies and listening to my ipod. I am a very easy person to talk to. I like to do crazy and wild things. im like an adrenaline junkie, I'm always looking for a big thrill, I'm a big risk taker and like to live life on the edge. I am an Extremist, an Anarchist, and a Sadomasochist. As long as you show respect for me i will show respect for you, if you disrespect me, then i will [f–cking] break your neck.
— Peter LaBarbera, www.aftah.com
_____________________________________
A former homosexual's perspective:
"David," a former homosexual who wishes to remain anonymous, offered the following thoughts on the Weber murder:
The brutal stabbing murder of WABC reporter George Weber should come as no surprise to anyone in the homosexual community.  Mr. Weber reportedly was seeking out a one-time sexual encounter with a male he had met on Craigslist.com — and whom he had never met before.  The 16-year-old boy and "alleged" murderer maintained a MySpace.com page where he claimed to be into sadomasochism.

Instant gratification, orgy sex, and anonymous sexual "hook-ups" are part and parcel of the male homosexual lifestyle. I know this, because I lived that life for more than 20 years.  I am a 48-year-old man recovering from homosexuality. (Yes, I am a former homosexual.)  It is a desolate, emotionless, self-focused, self-destructive  life — in which instant, anonymous sex is easily available, very common and an integral part of what it means to be "gay."  Go to any male homosexual website (e.g., "Manhunt), "leather bar," circuit party [huge drug-and sex-heavy dance parties for homosexual men], etc., and you will find that quick, one-time hook-ups — and multiple sex partners — is central to that way of life. 

Even in so-called homosexual "marriages," the overwhelming majority have "open relationships" or a "don't ask, don't tell" policy about extracurricular sexual escapades.  It took me over 20 years to realize this sad fact, and if I were to remain in the life I would have had to accept it.  I myself was violently abused and nearly strangled by one of my partners, as the relationship was nearing its end. This, coupled with other events and afflictions in my life, drove me to cry out to God and beg Jesus for forgiveness for my sins, and He helped me walk out of the "gay" life. I have no regrets, no apologies, and have never looked back.

David
Atlanta

All about "getting off": Gay hook-up websites like Manhunt (slogan: "Get on, Get off") make it easy for homosexual men to find casual, deviant sex. Many men show photos of their genitalia to lure prospective sex partners.
This article was posted on Thursday, March 26th, 2009 at 4:04 pm and is filed under
B - Ex-Homosexual Testimonies
,
BDSM
,
Gay Culture
,
Gay-on-gay violence
,
Health & Science
,
Leather
,
Mental Health
,
News
,
Physical Health
,
Sex Work
,
Too Much Tolerance
. You can follow any updates to this article through the
RSS 2.0
feed.