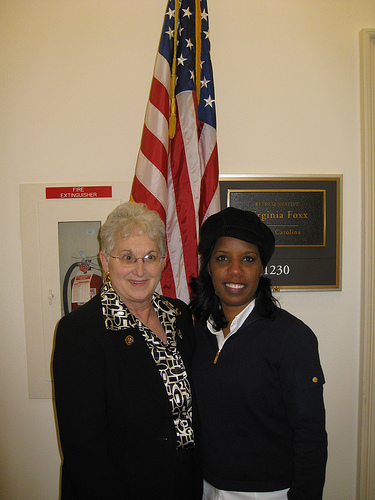 Drug Crime or "Hate Crime"? Rep. Virginia Foxx (R-NC), shown at far left, is being pilloried by homosexual activists because she challenged the homosexual activist myth that Wyoming college student Matt Shepard was murdered "just because he was gay." In 2004, ABC News' 20/20 reported that former Laramie Police Detective Ben Fritzen, one of the lead investigators in the Shepard murder case, believed robbery was the primary motive. "Matthew Shepard's sexual preference or sexual orientation certainly wasn't the motive in the homicide," Fritzen told 20/20. D. Foxx was savaged by left-wing MSNBC bloviator Keith Olbermann, who evidently never saw the ABC report, which revealed that Shepard's murderer was on a "meth [methamphetamine] binge." 
____________________________
Folks, I don't know about calling it a "hoax," but Rep. Foxx is correct to challenge the ongoing myth that says Matthew Shepard was killed just for being "gay." Read this 2004 ABC 20/20 report and decide for yourself. Regardless, the fact that Shepard's is now one of the most famous murder cases in history belies the notion that homosexuals are somehow underserved by our justice system. In fact, thousands of victims of similar horrific violence never received any of the national media attention that this crime received. TAKE ACTION: Call your U.S. Senators and urge them to oppose "hate crimes" legislation, H.R. 1913, which would federalize homosexuality ("sexual orientation") law and create a politically correct hierarchy of victims. Call 202-224-3121 or go to www.congress.org.
_____________________________________
OneNewsNow reports (listen to their report HERE):
NC Congresswoman Claims Shepard Murder 'Not a Hate Crime'
By Jim Brown – OneNewsNow – 5/5/2009 7:00:00
Matthew ShepardA Republican lawmaker has enraged supporters of "hate crimes" legislation for suggesting that the horrible murder of Matthew Shepard was not motivated by anti-homosexual bigotry.
Congresswoman Virginia Foxx (R-North Carolina) drew the ire of homosexual activists and other supporters of hate crimes legislation last week when she suggested that the tragic 1998 murder of college student Matthew Shepard was not a hate crime.
"We know that young man was killed in the commitment of a robbery. It wasn't because he was gay," Foxx said on the House floor. "The bill was named for him — the hate crimes bill was named for him, but it's really a hoax that continues to be used as an excuse for passing these bills."
Foxx later apologized for using the word "hoax," and said it "may have been a mistake" to reference two media accounts that reported robbery was the motive for the Shepard murder.
In 2004, Elizabeth Vargas of ABC News reported that one of the lead investigators in the Shepard case believed robbery was the primary motive. Former Laramie Police detective Ben Fritzen told Vargas, "Matthew Shepard's sexual preference or sexual orientation certainly wasn't the motive in the homicide."
Peter LaBarbera, president of Americans for Truth About Homosexuality, says the idea that Shepard was brutally murdered "just because he was gay" is a myth.
"I think it's sad that Matthew Shepard's case continues to be exploited by homosexual activists. Even in schools there's the 'Laramie Project,' which is a pro-homosexual play which sort of builds on the Matthew Shepard myth. That's still used today to advance the hate crimes concept," he contends. "I think his case, again, proves that homosexual activists in this politically correct environment get greater attention than any other victim."