Nancy Pelosi's district celebrates the most vile perversions and attacks on God and nature known to mankind: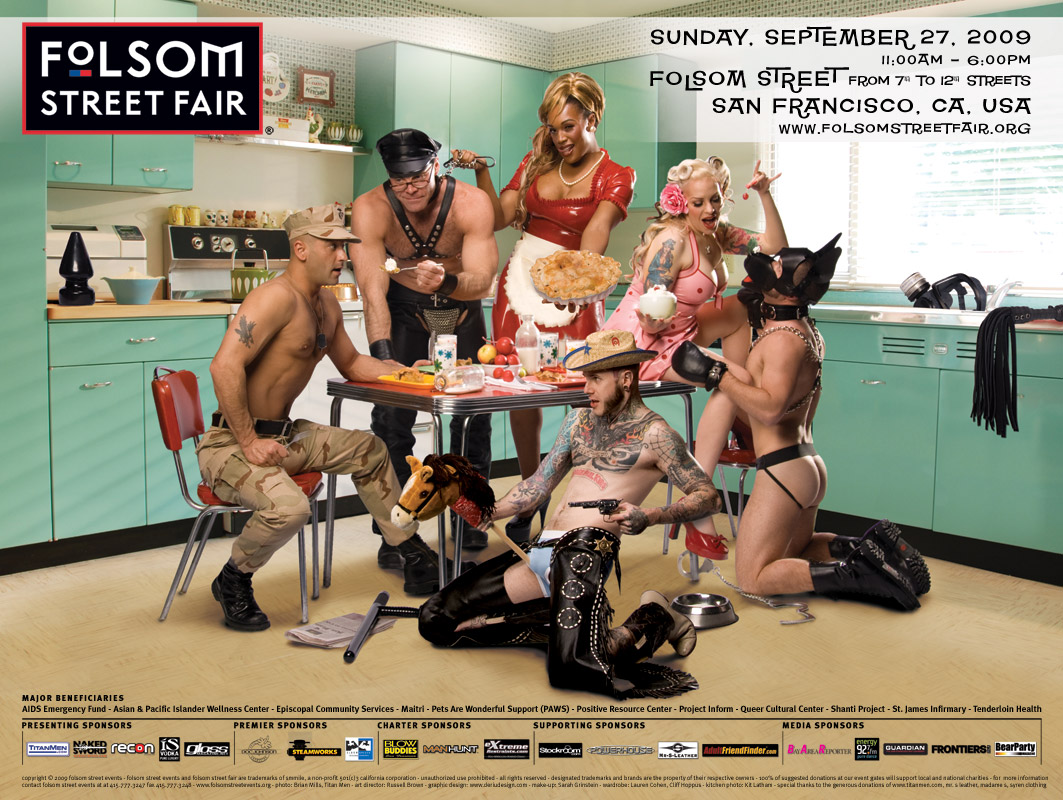 TAKE ACTION: call or write House Speaker Nancy Pelosi's office and urge her to denounce this blatant attack on the family coming out of her district: 202-225–4965 or 202-225-0100.
By Peter LaBarbera
Folks, take a look at what the sadistic pervs over at Folsom Street Fair came up with for their promotional poster this year. And to think that in all their "leather pride" they think of themselves as "progressive." (PETA might disagree.) The good news is that thanks to the efforts of Americans For Truth and others who have exposed the open-air perversions that have been allowed to take place year after year at Folsom and at another San Francisco "street fair," police are finally promising to crack down on the nudity and public sex [see this report in California Catholic Daily]. Will House Speaker Nancy Pelosi (D) denounce this new attack on the natural family, or will she continue to pander to her homosexual base– as she did by refusing to condemn a version of the above that mocked the Last Supper? Few Americans have any clue about just how deviant America's Queer Mecca is.
Now here's another reality about Folsom, International Mr. Leather (coming up this Memorial Day weekend in Chicago), and the über-depraved poster above: such vileness could only emerge from a "GLBT" (gay, lesbian, bisexual, transgender") movement that celebrates sexual deviance in the first place. Homosexual sodomies have more in common with the above picture than they do with natural family and marriage. In other words, domesticated homosexuality (Heather Has Two Mommies) is itself a revolutionary assault against God and Nature. And that is why sadomasochists, "genderqueers" and she-males (transsexuals half-way through their "transition") are all welcome under the self-described "queer" umbrella. They'll tolerate Folsom, but they won't tolerate Californians voting in Prop 8 to defend marriage.
It's the behavior, stupid. And it's awfully tough for a "Sexual Liberation" movement to boot out any "perverted" group or lifestyle when homosexuality itself is a perversion that was once universally taboo. (Which makes the concept of homosexuality-based "marriage," well, about as ridiculous as calling what is depicted in this poster a "family.") We're talking gradations of immorality — how utterly foolish for "conservatives" to embrace "same-sex marriage" (or "civil unions") in the name of commitment, monogamy and tradition — or Christianity. Did you know that NAMBLA (the pedophilic North American Man/Boy Love Association) once marched in "Gay Pride" parades?
So don't hold your breath waiting for the Human Rights Campaign or the National Gay and Lesbian Task Force or PFLAG (Parents, Families and Friends of Lesbians and Gays) to denounce this sick display. They can't, and we doubt Speaker Pelosi will either, even though it might help her politically to do so. Privately the "gay" activists may be upset at how Folsom hurts their cause strategically, i.e., from a PR perspective. But outwardly they're far more apt to attack Carrie Prejean than their comrade-cousins on the Leather fringe.
Folsom Street Fair's press release announcing the new twisted poster follows:
_______________________________________________
http://www.folsomstreetevents.org/fair-info.php
May 15, 2009
FOLSOM STREET EVENTS® LAUNCHES POSTER DESIGNS FOR ANNUAL FAIR AND EVENTS SEASON
Folsom Street Fair poster image draws inspiration from 1950's style household
San Francisco, CA – May 15, 2009 – Folsom Street Events has released its latest poster designs for the annual events: Bay of Pigs™, Up Your Alley®, Magnitude®, and Folsom Street Fair®. This year, the official Folsom Street Fair poster was inspired by a classic 1950's "nuclear family" photo. In light of the passage of Proposition 8 last fall, the organization felt it was important that the Folsom Street Fair – and San Francisco – take a stand about what family is and how we experience those similar bonds in our community. Folsom Street Events wanted to juxtapose the traditional and iconic imagery from that "era of innocence" against the irreverent diversity of the fetish community.
According to Demetri Moshoyannis, Executive Director, "We are extremely pleased with the outcome of this poster, and we are looking forward to a particularly inspirational event season. The poster is an attempt to portray an alternative to the archetypal image of the family; it's our way of saying: 'This is our family.' It is a distinctive representation of leather and fetish diversity with people of all genders, sexual orientations, ages, interests, etc."
According to Russell Brown, Administration and Special Projects Manager, who managed the creative process of producing the poster, "I really wanted a fun poster, maybe a little bit lighter than what Folsom has produced in the past with the hope of attracting some potential new fair-goers who may have been reluctant before. Especially with the downturn of the economy, I wanted the poster to reflect the three tenants of Folsom Street Fair: Fun, Frolic and Fetish."
The poster was made possible in part by Brian Mills of Titan Media who brilliantly photographed the images. Titan Media generously volunteered their studio for the photo shoots. Additionally, all of the models volunteered their time, including: Troy Weakley ("dad"), Bianka Stevens ("mom"), Tony Buff of TitanMen.com ("son"), Sparkly Devil ("daughter"), Trevor Wayne ("younger son") and Justin Morgan ("family dog"), all of whom brought energy and life to the picture.
Posters for Bay of Pigs, Up Your Alley, and Magnitude as well as Folsom Street Fair are available online at www.folsomstreetevents.org . The Bay of Pigs and Up Your Alley posters were illustrated creatively by Axel and Rob Clarke, accordingly. The Magnitude poster features TitanMen.com models Eduardo and Korben, and it was also photographed by Brian Mills.
This article was posted on Monday, May 18th, 2009 at 1:28 pm and is filed under
"Civil Unions" & "Gay Marriage"
,
"Civil Unions" & "Gay Marriage"
,
A - What does the Bible say about homosexuality?
,
BDSM
,
Biblical Truth
,
Gender 'Fluidity' (Confusion)
,
Homosexual Hate
,
Homosexual Hate Speech
,
Homosexual Meccas
,
Homosexual Pedophilia & Pederasty
,
Homosexual Pride Parades & Festivals
,
HRC
,
Leather
,
News
,
PFLAG
,
Pornography
,
Public Sex in Your Neighborhood?
,
San Francisco
,
Sexual Revolution
,
Task Force
,
Too Much Tolerance
. You can follow any updates to this article through the
RSS 2.0
feed.