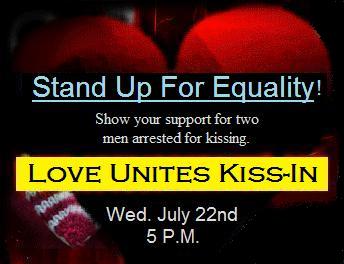 Harass the Mormons, Call it a "Dialogue": The Empowering Spirits Foundation, a homosexual activist group, advertises a direct-action "kiss in" protest against a Mormon temple in San Diego scheduled for tonight (Wednesday, July 22) — even as it asks for a "respectful dialogue" with Church of Latter-day Saints (LDS) officials. At the protest, same-sex couples will kiss each other as an act of defiance against the LDS church for supporting defense-of-marriage initiatives in California and across the United States.
By Peter LaBarbera
Dear Readers,
Imagine this nightmare scenario: four days ago, your family received a letter out of the blue from a homosexual activist organization notifying you, in "respectful" language, that your family is the target of a protest. Upset that you sent money to support Proposition 8 in California — reinstating marriage as between a man and a woman — the "gay" group informs you that about ten homosexual couples will show up on the sidewalk in front of your house on July 22nd (today) at 5:00 PM and engage in prolonged same-sex kissing with each other.
Wielding their public deviance as a political tool, the militant "gay" protesters call their event a "kiss-in" — knowing that you regard their homosexual behavior as unnatural and immoral, that it makes you extremely uncomfortable, and that it will embarrass you in front of your neighbors (and the media, whom they called in). Nevertheless, they assure you that they "respect" you and your religion and that they are happy to engage in "dialogue" with you in between their lip-locking acts of homoerotic defiance.
Well, your nightmare is the Church of Jesus Christ of Latter-Day Saints' (LDS) reality as they face another homosexual "kiss-in" protest at their San Diego temple this evening. After reading the Associated Press story about the San Diego "kiss-in" on the "gay" news site "355Gay.com," I posted the following comment responding to it:
Homosexual activists are the ultimate hypocrites when it comes to "tolerance." You see nothing wrong with offending the religious sentiments and moral beliefs of Mormons with your obnoxious "kiss-in" outside an LDS temple. Then you cry foul when religious people offend you with their heartfelt beliefs that same-sex "marriage" is wrong. The only good that comes from your incessant religion bashing is that it reveals your true hatred for traditionalists to the wider public. Stop lying by telling Americans that your "respect" their faith teachings and the right to live them out in the public square. You clearly do not.
Going to the "Empowering Spirits Foundation" website, I found this incomprehensibly self-serving description of their homosexuality-celebrating "kiss-in":
This is to be a peaceful rally to encourage dialogue between LDS [Mormon] officials and those seeking equal rights. Love unites, and we will join together to not only display our endless support for equality, but for those with differing opinions, including the LDS church. We've also invited officials from the Mormon Church to engage in dialogue with us through this letter.

Please refrain from any profanity during the protest and do not bring signs that demean any religious organization, including the LDS church.
Orwellian "dialogue"
Let's deconstruct the Empowering Spirits' Orwellian Gayspeak. They are rubbing their perversion in the face of a church in the name of "respectful dialogue." "Don't offend the Mormon church by swearing," they say, as though they truly respect the Mormons' morality, "but it's fine to flaunt your homosexual behavior outside their temple even though LDS teachings regard homosexual acts as sinful … Because it's all about "dialogue," you know."
The poor "gay" activists are totally caught up in their own self-righteous delusion that their cause somehow approximates a "civil rights" movement. Yes, they even seem to believe that their homo-fascist stunts are "respectful" toward their targeted victims. And they are so convinced that their misguided goal of legalizing homosexual "marriage" is noble that they employ a crude ends-justifies-the-means approach to everything, including harassing a church.
Definition of marriage is 'trivial'?
In this portion of a letter sent to LDS President Thomas Monson just three days before the scheduled "kiss-in," Empowering Spirits Executive Director A Latham Staples characterizes the LDS teaching on marriage as a mere "pious triviality":
Surely by now, the Church understands the value of teaching tolerance…Differing sides may not always agree, but we must not focus on pious trivialities as this corrupts our society.
Preserving the age-old definition of marriage as a "pious triviality"? This isn't respect. It's contempt. It's not "dialogue" but coercion. Call it Perversion Coercion, it you will, and the goal is to intimidate religious people and churches into submission. And ex-"gay" Christian activist James Hartline has it right when he says that Empowering Spirits would never try to pull a "kiss-in" stunt like this in front of a mosque. That might upset the preposterous "gay-Muslim" alliance that will disintegrate when everyday adherents of Islam realize that the Homosexual Lobby despises their religion, too — or at least the part that teaches that homosexual acts are always wrong.
Here's the AP story (which reads more like a "gay" press release) in 365Gay.com, followed by the posted comments as of last night, in which some react with a four-letter cuss word to express their attitude toward the Mormons' defense of natural marriage:
___________________________
San Diego group plans 'kiss-in' at Mormon temple
By The Associated Press
07.21.2009 1:33pm EDT
(Salt Lake City) A gay rights group plans to stage a mass kissing demonstration outside the San Diego Mormon temple as a show of support for a gay couple cited for trespassing in Utah after sharing a kiss on church property.
The Empowering Spirits Foundation says the "kiss-in" is intended as a peaceful rally to encourage dialogue between The Church of Jesus Christ of Latter-day Saints and the gay community.
The event is scheduled for Wednesday evening at the temple near La Jolla, Calif.
It would be the third kissing demonstration held since Matt Aune and Derek Jones were cited for trespassing on the church-owned Main Street Plaza on July 9 in Salt Lake City.
The couple refused to leave the plaza when security guards who saw the kiss said the behavior was inappropriate.
___________________________
Posted Comments (expletives cleaned up by AFTAH):
* Samantha said (July 21st, 2009 at 1:39 pm):
Good for them! 🙂
* Lorion said (July 21st, 2009 at 1:59 pm):
Go for it. ..and do make it a community 'even't ALL couples invited.
* Peter said (July 21st, 2009 at 2:01 pm):
Let's see EVERY POSSIBLE COMBO in that crowd – kissing till the cows come home!!!!
* Allan said (July 21st, 2009 at 2:52 pm):
I've come across this letter from the organization holding the rally to the church, which I think fully describes the intent of the rally. It's a peaceful rally to encourage dialogue with the church, not a protest. I must admit that A. Latham Staples is very eloquent in his attempt to engage in conversation with LDS officials.
http://www.empoweringspirits.org/PRDocServer/LDS_Unity_Rally_072009.pdf
* Michael said (July 21st, 2009 at 4:17 pm):
This is awesome. I always thought it would be really fun to do something like this on the one day a year the temples open to the public for tours. Have gays and lesbians walk through as couples and hold hands etc. [F**k] the mormons. They suck.
* Matteo said (July 21st, 2009 at 4:45 pm):
@ michael: don't you see that saying "[f**k] the mormons, they suck" is just as ignorant and ultimately pointless as people on forums who say "[f**k] the gays, they suck."

Sure, as we eventually progress to equal rights, we shouldn't snub groups that are routinely hostile to people who identify as LGBT. We should be the bigger men and women and progress graciously. We should certainly be as open-minded, honest, and positive as (a) we would like people to be with us and (b) the doctrine of the people who seek to halt our rights.

The letter written by the people who are organizing this event reflect those sentiments and I believe progress will be made faster and less hatred will be felt on all sides the more we keep our hearts and minds open.

Ultimately we are working for the open inclusion, freedom, dignity and rights for everyone prescribed by our constitution, are we not?

Hatred can't be defeated by hatred, nor fire deflected with more fire. Heaping more fire onto the pile will just cause everything to burn together.
* Jay said (July 21st, 2009 at 5:09 pm):
Good. We need more direct action. We have been too passive too long. Too many of us are too comfortable in the back of the bus. We need to stand up for our rights more aggressively.
* John said (July 21st, 2009 at 5:20 pm):
Well said Matteo! The GLBT community needs to take the high road, where there is less traffic.

Calling people names does not change minds and will not win the P.R. battle for these civil rights.

For many Mormons, this was simply a trespassing/private property issue. For GLBT people this was about equal treatment, respect and fairness.

If we just yell and scream at each other, we might feel better in the short term, but in the long term we won't get to where we way we want to go.

If you want love and respect, you need to give love and respect.
* Porter said (July 21st, 2009 at 5:20 pm):
This is good news thats what this world is lacking love it the only thing thats universal and it wont be denied !!
* Gary A. said (July 21st, 2009 at 6:22 pm):
I second thaat, [F**K] THE MORMANS, THEY SUCK
* John said (July 21st, 2009 at 9:18 pm):
Ditto what Michael says: [F**K] THE MORMONS!
This article was posted on Wednesday, July 22nd, 2009 at 2:06 pm and is filed under
"Civil Unions" & "Gay Marriage"
,
"Civil Unions" & "Gay Marriage"
,
A - What does the Bible say about homosexuality?
,
Gay Rights vs. Others' Rights
,
Homosexual Hate
,
Homosexual Hate Speech
,
Mormon LDS
,
Mormons
,
Muslim opposition to homo'y
,
News
,
The Bible, Churches, & Homosexuality
. You can follow any updates to this article through the
RSS 2.0
feed.