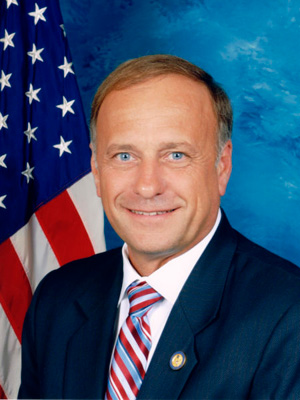 This is an excellent editorial by Family Research Council's Tony Perkins. Please thank Rep. Steve King (right) for leading the charge against longtime Professional Homosexuality Promoter Kevin Jennings, whose appointment (and survival) as "Safe Schools" chief in the Obama Administration is one of the ongoing follies of Obama. By the way, the latter — who benefited from Jennings as a campaign fundraiser — is looking more and more like a leftist and incompetent version of Jimmy Carter every day. Call Rep. King at 202-225-4426  or write him HERE to thank him for standing up for wholesome moral values and schools that teach rather than indoctrinate.
FRC's Oct. 5 "Washington Update" follows:
"The totality of [GLSEN founder Kevin Jennings'] life has been the promotion of homosexuality, and much of it within education." — Rep. Steve King (R-Iowa)
King of the Hill Takes on Czar of the Schools
The Obama administration is spending precious capital protecting its Safe Schools "czar," but many believe that loyalty carries more political risk than reward. Last week, Kevin Jennings's "aw, shucks" response to covering up child sexual abuse should have sounded the alarm over at the Department of Education. Instead, Secretary Arne Duncan used the opportunity to praise Jennings as "uniquely qualified" to serve on the team. That may not be the consensus for much longer, since FRC has uncovered a series of op-eds that show Jennings's incredible hostility toward Christianity.
In at least two Huffington Post columns, Jennings attacks people of faith with complete and utter disdain. When the former director of GLSEN tried to implement a series of Gay Straight Alliances in classrooms back in 2007, Jennings described a Christian who fought the idea as having "not-yet-fully evolved views maybe because of his proximity to the Everglades (from whose ooze he may have recently climbed), [but] I can't dismiss them as the ravings of a single troglodyte. Instead, they represent a classic example of how right-wing extremists continually try to mislead the public about the nature and purpose of GSAs."
In another article, "Recruit, Recruit, Recruit!" Jennings called Christian students "hypocrites" and mocked the members of Young Life for trying to evangelize their friends. At one point in the column, Jennings says, "…[T]hey want everyone to have to believe the way they do." Ironically, that's what Jennings' movement has been pushing for all along: forced acceptance! He and his activist friends want tolerance, but not for others.
Maybe that's why leaders like Rep. Steve King (R-Iowa) are calling for Jennings 's head. "The totality of his life," King says, "has been the promotion of homosexuality, and much of it within education." His work, says Rep. King, is "a political movement… It's not about protecting kids, it's about promoting homosexuality and demanding public affirmation… President Obama should fire Kevin Jennings immediately."
Obviously, the only "unique qualification" Jennings possesses is an ability to practice the same kind of intimidation his office is trying to prevent. As FRC has said for four months, a man charged with creating safe schools can't possibly achieve it by turning America's classrooms into a hostile environment for kids with religious beliefs. Otherwise, we've allowed the anti-bullying boss to become the biggest bully of all! For more information on what you can do to stop Jennings, visit our site.
_________________
Here is the original Americans For Truth "Lambda Report" article reporting Kevin Jennings' comment at a GLSEN conference in 1997 that he indeed looks forward to the day when "promoting homosexuality" in schools will be seen in a positive light:
"'Gay' Leader Kevin Jennings Says Dream Is to 'Promote Homosexuality' in Schools"
This article was posted on Tuesday, October 6th, 2009 at 10:00 am and is filed under
Boards, Administrators, Teachers, Counselors
,
Bullying & Victimhood
,
Candidates & Elected Officials
,
Diversity & Tolerance Propaganda
,
Gay Activist Hate Against Christians
,
GLBTQ Targeting Youth and Schools
,
Government Promotion
,
Homosexual Hate
,
Kevin Jennings
,
News
,
Obama
. You can follow any updates to this article through the
RSS 2.0
feed.