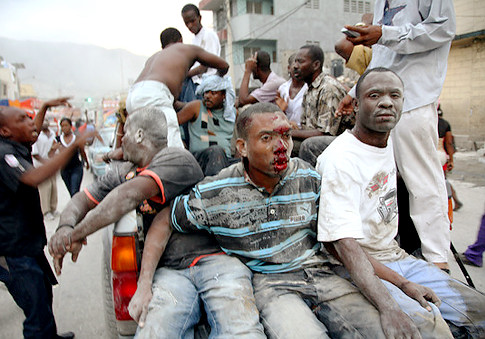 Folks, Food for the Poor has an outstanding record in NOT wasting donations on overhead. More than 97 percent of all your tax-free donations to this organization will go toward actual relief and food efforts in Haiti. Please generously support Food for the Poor's Haitian relief campaign with a tax-deductible gift HERE. Thank you. — Peter LaBarbera, Americans For Truth, www.aftah.org
________________________________
Report from Haiti
FOR IMMEDIATE RELEASE
01/15/10
DONATE TO 'FOOD FOR THE POOR' HERE
Our team from Florida is in Port-au-Prince, Haiti and reported back. Staffer Chris Frosch reported this morning, January 15, that there is dust, debris and "dead bodies everywhere," and little or no cell phone service. Tens of thousands of people are camped out in public parks because of the aftershocks. The team is staying at a Haiti staff member's house. "Last night we all slept in the cars because it was not safe to sleep inside," Frosch said.
Haiti, the poorest country in the Western Hemisphere, has been hit hard in the earthquake. "This is Haiti times 100. People are looking for lost relatives, it's chaos," said Frosch.
Almost 100 containers of urgently needed medical supplies, rice and canned food from Food For The Poor are ready to be distributed to the people of Haiti, who are reeling from the devastating effects of the 7.0-magnitude earthquake. Another 300 containers are planned as a part of the initial relief effort.
The containers are part of Food For The Poor's goal to provide $5 million in relief to the struggling nation, as it endures one of the worst natural disasters in its history.
"Our hearts are broken watching this news about the country that we care so much about, and have worked in for so long," said Robin Mahfood, President/CEO of Food For The Poor. "Our job now is not to ask why they have had to suffer again, but to do everything we can to get help to them. We need everybody's help."
DONATE TO 'FOOD FOR THE POOR' HERE
This article was posted on Friday, January 15th, 2010 at 4:04 pm and is filed under
Gospel evangelism
,
Misc.
,
News
. You can follow any updates to this article through the
RSS 2.0
feed.