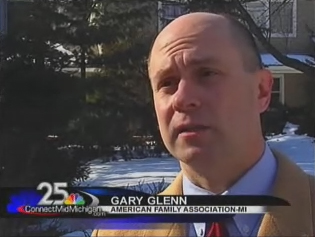 This is Part 2 [click HERE to listen] of our 4-part interview with Gary Glenn, president of American Family Association of Michigan [see Part 1 HERE]. It was pre-taped and aired Feb. 6, 2011. AFTAH President Peter LaBarbera and Glenn discussed how "sexual orientation" laws are inherently discriminatory against people of faith and anyone who opposes homosexuality. Glenn ticks off case after case of Christians and moral organzations like the Boy Scouts being victimized by pro-homosexual "sexual orientation" laws. Glenn also holds a mini radio "Truth Academy" on the proper mindset for pro-family work — urging activists not to use defensive language that suits the Homosexual Lobby's debate frame but rather to put homosexual activists on the defensive by "telling the truth" that the "homosexual agenda itself discriminates against people." Glenn and LaBarbera agree that the idea of "civil unions" as a supposed compromise is a non-starter — noting how the concept was regarded as "radical" in Vermont just a few years ago, while today leading liberal elites easily jump from backing "civil unions" to "gay marriage."  Glenn also discusses school bullying laws, urging an approach that protects ALL students without "segregating" them by singling out "sexual orientation." 
HOW TO LISTEN: This is an mp3 file. Left click once on the link below to play. (Please be patient, depending upon the speed of your internet connection it may take a moment or two to load.) OR right click the link then "save target as" to download the whole show.
This article was posted on Thursday, February 10th, 2011 at 1:28 pm and is filed under
"Civil Unions" & "Gay Marriage"
,
"Civil Unions" & "Gay Marriage"
,
"Sexual Orientation"/"Gender Identity" and the Law
,
A - What does the Bible say about homosexuality?
,
Americans for Truth Hour
,
Biblical Truth
,
Bullying & Victimhood
,
C - Heroes for Truth
,
Christian Persecution
,
Evangelicals
,
Freedom Under Fire
,
Gay Activist Hate Against Christians
,
Gay Rights vs. Others' Rights
,
Gay Sex Health Risks
,
GLBTQ Lawsuits & Retribution
,
GLBTQ Targeting Youth and Schools
,
GOProud
,
Government Promotion
,
News
,
The Bible, Churches, & Homosexuality
,
Vermont
. You can follow any updates to this article through the
RSS 2.0
feed.