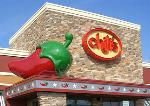 From today's AFTAH e-newsletter; go HERE for contact info for Chili's and parent company Brinker International — which is a "National Corporate Partner" of the National Gay & Lesbian Task Force:
Dear Readers,
This is not just another e-mail about boycotting yet another irresponsible corporation.  It's about educating the nation on the incredibly extreme and unhealthy agenda of the pro-Homosexuality-Bisexuality-Transsexuality Lobby — and holding company executives accountable for financing that agenda.  Last week in Minneapolis, I and a few other pro-family advocates went undercover at the annual "Creating Change" grassroots homosexual conference put on by the National Gay and Lesbian Task Force.  There were more than 2,000 LGBT activists in attendance!  Some of the "change" we heard advocated in the various workshops, and which we will document in the days and weeks ahead, was shocking.  Yet this agenda is one that the left-leaning media refuse to examine, much less expose. So AFTAH will do the media's job for them by laying out the Gay Task Force's extremist vision, which includes:
Taxpayer-financed "sex change" operations for transsexuals (not to do so is "discrimination" against "transgenders");
Using polling, focus groups and emotional arguments to persuade evangelical Christians to ignore Scripture and accept homosexuality-based "rights";
Using the tragedy of homosexual youth suicides to shame Christians into stop calling homosexuality sinful;
Celebrating sadomasochism (consensual sexual violence and degradation) and "kinky"/fetish sexual behaviors
Pro-homosexuality lessons for grade school kids (because waiting until middle school is too late to reach them); 
"Non-judgmental condom advocacy for young men in the name of HIV prevention — and even being non-judgmental in "safe sex" training when it comes to bizarre/disgusting "fetish" behaviors
Predicting not just a future "gay" president of the United States but also a "bi" and a "transgender" president! (I'll withhold the jokes…);
"[F–k–g] with gender," and celebrating bisexuality and "genderqueer" lifestyles (see this definition for latter: http://en.wikipedia.org/wiki/Genderqueer);
Using "gender identity" laws to pressure businesses to bend to the transgender agenda of "Gender-Neutral Restrooms" — to replace the old-fashioned variety with an "M" or an "F" on the door.
There is much, much more — the homosexual Task Force puts the "D" back in "Deviance," that's for sure.  Stay tuned as we lay out the "change" that this high-powered organization and "Friend of Barack Obama" is promoting for America — with help from Chilis restaurants, Wells Fargo, Southwest Airlines, and other major corporations.  God bless you and thanks for standing with us! — Peter LaBarbera, Americans For Truth, www.aftah.org; americansfortruth@gmail.com. 
This article was posted on Wednesday, February 9th, 2011 at 1:08 pm and is filed under
A - What does the Bible say about homosexuality?
,
Bible
,
Boycotts -- Pro-Natural-Family
,
Chili's Restaurants
,
Christian
,
Corporate Promotion
,
D - GLBTQ Pressure Within Churches
,
Evangelicals
,
Left-wing activism
,
Liberal Christianity
,
NCSF
,
News
,
Pro-Homosexual Media
,
Servicemembers Legal Defense Fund
,
Southwest
,
Task Force
,
The Bible, Churches, & Homosexuality
,
Transgender-General
,
Wells Fargo
. You can follow any updates to this article through the
RSS 2.0
feed.