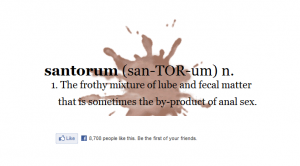 Americans For Truth About Homosexuality press releasel
March 22, 2012
Contact: Peter LaBarbera: [email protected]
AFTAH Calls on Viacom Inc. to Cancel 'Savage U,' New MTV Show Featuring Perverted Cyber-Bully Dan Savage
CHICAGO – MTV – owned by Viacom Inc. – should cancel its upcoming TV show "Savage U," featuring homosexual activist and raunchy sex-advice columnist Dan Savage — in part because it rewards the cyber-bully Savage for his notorious and vile internet smear-campaign against Rick Santorum, said Peter LaBarbera, president of Americans For Truth About Homosexuality.
"Savage U" is scheduled to debut Tuesday, April 3. MTV describes the show: "Dan Savage and his producer travel around the country to give advice about sex, relationships and romance with college students." The trailer reveals a program as crude, vulgar and perverted as the host's weekly sex-advice column, "Savage Love."
Said LaBarbera: "There are two main reasons why MTV and its parent company Viacom should cancel Dan Savage's new show about sex on college campuses: Number One: Dan Savage is a radical and raunchy homosexual activist who gives unhealthy and reckless sex advice. He aggressively works to undermine the historic ethic of marital fidelity by championing the twisted notion that married couples should allow outside sex – like so many 'monogamish' homosexual male couples do. Incredibly, Savage argues that this would lower the divorce rate."
"Number Two: Savage is an unrepentant cyber-bully who has led a worldwide internet campaign to demonize and destroy Rick Santorum's name — creating 'Santorum[dot]com' to 're-define' it as the revolting by-product of anal sex. He should NOT be rewarded for this evil crusade, nor held up as a role-model for young people.
When LaBarbera asked Savage to take down his hate-site targeting the former Pennsylvania senator, he responded on Twitter: "I'm asking Peter LaBarbera to go [f- -k] himself."
LaBarbera is asking concerned Americans to contact Viacom Inc. and urge it to cancel "Savage U" for the sake of not corrupting young people's morals, and because the show rewards a bully.
In addition, AFTAH will expose colleges like UNC-Chapel Hill and Elmhurst College that are paying Savage to be a guest speaker ($18,500 at UNC).
"Liberals evidently have a double-standard on hate," LaBarbera said. "On the one hand, they rightfully condemn those who bully homosexual youth, while on the other hand the creator of a malicious hate-site – "Santorum[dot]com" – gets rewarded with his own MTV show and lucrative speaking engagements on college campuses."