Reagan-hating lesbians make out in front of Gipper portrait 
Excerpted from The Blaze, June 22, 2012:
Gay activists from Philadelphia posed for pictures while giving the middle finger to a portrait of former President Ronald Reagan during a recent trip to the White House, according to Philadelphia Magazine:
From phillymag.com:
Last Friday, an attaché of important gay people from Philadelphia made a trip to Washington D.C. as invited guests of President Barack Obama for the White House's first-ever gay pride reception….some of them took advantage of photo opportunities to give the late President Ronald Reagan the middle finger "It's not a gesture that I would use in the White House when representing our city and our community," opines Philadelphia Gay News publisher Mark Segal (center), who opted for a sarcastic thumbs-up pose in front of the portrait of George W. Bush over the more vulgar one demonstrated by his Reagan-loathing peers, Matthew "Matty" Hart (left), the national director of public engagement at Solutions for Progress, and self-taught photographer turned toast-of-the-town Zoe Strauss (right).

[…]

But his counterparts couldn't seem to care less. Hart posted his photo on Facebook with the caption, "F–k Reagan." [Zoe] Strauss simply posted hers without commentary. After all, the murderous facial expression and double-barreled bird-flipping seem to speak for themselves. Comments ranged from "you forgot to add with a chainsaw" on Hart's "F–k Reagan" note, to my personal favorite, "star wars … up yours," on Strauss's.
A larger version of one photo, posted on Facebook by Zoe Strauss [update: the photo has been removed from Strauss's Facebook page but is available on her Twitter account with the caption, "F–K YOU, REAGAN!"]: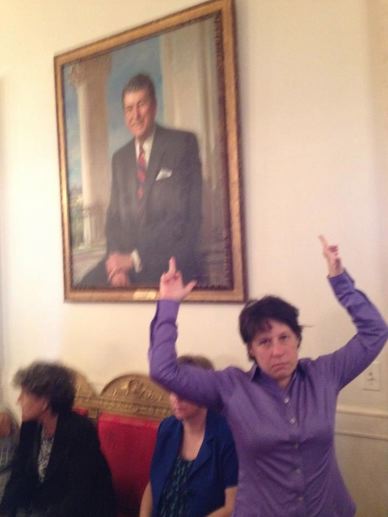 Strauss posted a second one on her blog with the comment: "Me and LB making out under a portrait of Reagan at the White House. That was amazing":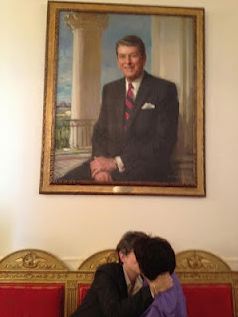 This article was posted on Saturday, June 23rd, 2012 at 7:29 pm and is filed under
Candidates & Elected Officials
,
Democrat Party
,
Government Promotion
,
Homosexual Activist History
,
Homosexual Hate
,
Idiocy - Gay
,
Left-wing activism
,
Lesbianism
,
News
,
Obama
. You can follow any updates to this article through the
RSS 2.0
feed.