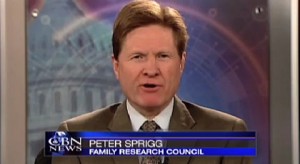 The following is Part Two of our interview with Peter Sprigg [click HERE to listen], Senior Fellow in Policy Studies at the Family Research Council. This was recorded June 21, 2012. [Go HERE for Part One and HERE for the archive section containing all AFTAH interviews.] Sprigg goes into further analysis of the Mark Regnerus study on homosexual parenting. He and AFTAH President Peter LaBarbera and Grace Gospel Fellowship pastor John Kirkwood also discuss the radical decision by Illinois Attorney General Lisa Madigan not to defend the state's marriage law.
CORRECTION note from program: In the beginning of this interview, there is a discussion of egregious, pro-homosexual media bias, focusing on CNN's Soledad O'Brien. In the first of two CNN clips, we play O'Brien interviewing Dr. Fred Luter, the new — and first African American — president of the Southern Baptist Convention. LaBarbera mistakenly attributes a quote by libertarian Republican Margaret Hoover, another guest on the progam, to O'Brian. As you can see from the CNN clip HERE, it is Hoover, not O'Brien, who refers to homosexuality ("inclusiveness of gay Americans") as "a new civil rights issue." Then O'Brien condescendingly instructs Luter that his position on homosexual "marriage" puts him in "direct opposition to President Obama." We apologize for the error.
HOW TO LISTEN: This is an mp3 file, supported in most operating systems by Windows Media Player, Quick Time and/or I-Tunes.  Real Player is not supported and there may be difficulty when attempting to listen with it.  Left click once on the link below to play. (Please be patient, depending upon the speed of your internet connection it may take a moment or two to load.)  OR right click the link then "save target as" to download the whole show.
6-21-12, Peter Sprigg, Part Two
This article was posted on Sunday, June 24th, 2012 at 11:26 pm and is filed under
"Civil Unions" & "Gay Marriage"
,
"Civil Unions" & "Gay Marriage"
,
"Sexual Orientation"/"Gender Identity" and the Law
,
A - What does the Bible say about homosexuality?
,
African-American
,
Americans for Truth Hour
,
Baptist
,
Biblical Truth
,
C - Heroes for Truth
,
Christian
,
CNN
,
Homosexual Parenting
,
Media Promotion
,
Morality and Moral Judgments
,
News
,
The Bible, Churches, & Homosexuality
. You can follow any updates to this article through the
RSS 2.0
feed.