Reporters sound like "gay" activists at homosexual journalists fundraiser in New York City
Contessa Brewer of MSNBC says giving fair coverage to opponents of homosexuality would be like giving "fair coverage for racists."
By Peter LaBarbera
NEW YORK CITY — MSNBC anchor Contessa Brewer said at a "gay journalists" fundraiser Thursday that for the media to give fair coverage to "the other side" of the homosexual rights debate — pro-family advocates who oppose homosexuality — would be like giving "fair coverage for racists."
"You know what's so funny about this? When we're talking about racism, nobody ever says, 'Do you think there's fair coverage for racists?'" Brewer said.
Asserting that opposition to homosexuality is objectively "wrong," Brewer said, "I think that there's a difference between being objective and being fair.  And sometimes wrong is wrong, and the right thing to do is say when it's wrong."
Brewer made the comments in a short interview with this writer at the annual fundraising event for the National Lesbian and Gay Journalists Association (NLGJA). I attended the "Headlines and Headliners benefit" as a critical observer along with Cliff Kincaid of the conservative group America's Survival.
Brewer, NBC "Today Show" host Matt Lauer, Today Show co-host Natalie Morales, "CBS This Morning" co-host Gayle King and other major media TV media personalities attended the NLGJA fundraiser and lauded the homosexual group's work. Morales, who hosted the event. told this writer in an interview that homosexual rights is "a new civil rights movement." In her speech to about 300 attendees, she celebrated the advances of the LGBT movement (including same-sex "marriage") and applauded the NLGJA, now in its 18th year. Noting the media's key role in the propelling "gay" rights forward, Morales said, ""We're all united in this cause."
Among the sponsoring news corporations at the NLGJA fundraiser were: NBC Universal (lead sponsor); CBS News, CNN, Fox News, The New York Times; Bloomberg News, Buzzfeed; and Newsday. The NLGJA raised $75,000 from the event, according to its website.
Following is a verbatim transcript of this writer's interview with Brewer, taken from a video of it shot by Kincaid:
Q: I'm Peter LaBarbera with Americans For Truth…. We're sort of on the other side of the issue. We're for traditional marriage and so forth….My question is: for some in the media, are you afraid that there's not fair coverage for the other side – [that] now it's veering so far the other way… that sometimes there's a tendency to—

Contessa Brewer:— You know what's so funny about this? When we're talking about racism, nobody ever says, 'Do you think there's fair coverage for racists?' That's my feeling about the matter. I think that there's a difference between being objective and being fair.  And sometimes wrong is wrong, and the right thing to do is say when it's wrong.

LaBarbera: A lot of Christians, for example, think that racism is a sin, but they also think tht homosexuality [is a sin]–

Brewer: –You know what I say? I grew up as the daughter of a Baptist preacher, and you know what my answer always is? If you think it's wrong, then don't do it. Thank you. [she walks away]
Prior to speaking with us, Brewer told the celebrity gossip TV show "Extra":
"I think it's so important to embrace equality ….and I've been a strong supporter of gay rights, same-sex marriage and privacy – politicians on both sides of the aisle [are] finally coming out and saying what should have been said decades ago: that everyone has the right to love who they choose and marry who they choose."
Below is an exclusive YouTube video produced by Kincaid and America's Survival that contains the interview with Brewer [to view on YouTube, go HERE]. The interview begins at the 2:52 mark (please excuse the poor lighting):
As described in this MSNBC bio, Brewer is a veteran journalist and anchor at MSNBC who is currently hosting the weekend program, "Caught on Camera." She occasionally also fills in as anchor at WNBC in New York.
AFTAH has covered several NLGJA events in the past, and this writer even spoke at one of the organization's conference on the topic of covering "both sides" of the homosexuality debate. This event, like previous ones I had attended, had a "gay advocacy" rather than journalistic feel to it.
Homosexual journalists who are NLGJA members typically maintain that their association is comparable to those serving Black and Hispanic journalists, and that they are capable of being objective on "gay"-related stories such as homosexual "marriage." But conservative and pro-family critics (including AFTAH) maintain that such analogies break down because homosexuality remains a moral issue in the eyes of many millions of Americans — as opposed to race and ethnicity, which are morally neutral and unchangeable.
Moreover, past NLGJA events have featured homosexual journalists — including some working for major media outlets –denigrating pro-family opponents of "gay rights," and making analogies between covering them and covering hateful racists much like Brewer's tendentious claim.
It should be noted that many advocates of homosexual "marriage" and other aspects of "gay rights" — both homosexuals and non-homosexuals alike — reject this extreme characterization of pro-family voices. However, most conservatives agree that coverage of homosexual-related issus has become significantly more lopsided in favor of pro-homosexual advocates in the last decade — in part due to relentless pressure from LGBT activists who insist that there is no legitimate opposing view to their agenda.
"There is a legitimate other side"
To that point, both Morales and Gayle King — co-host of "CBS This Morning" and close friend of Oprah Winfrey — told this writer that they dispute the idea that opponents of homosexual activism and "same-sex marriage" are in a league with racists, as Brewer alleged.
In an interview, King — who called support for "gay rights" a "no brainer" — rejected the idea of comparing opponents of homosexuality and "gay marriage" with the KKK (see graphic below) as "very extreme….I don't agree with that comparison."
When this writer asked "Today Show" co-host Morales if she believes there is a "legitimate other side" to the homosexual movement, she responded, "Of course there's a legitimate other side. I mean I think …this in an open debate before our country, where people are entitled to their opinions."
The interview with Morales continued:
LaBarbera: So being pushed in the bracket of – say, if you disagree with homosexuality – you're in a league with racists… if you disagree about gay marriage, disagree about fundamental issues surrounding homosexuality – do you agree with that view?

Morales: I think what's happening here is this is a new civil rights movement. I mean I think clearly… I believe that gays have as much equal opportunity as we all should have. And I believe that they should be allowed to get married and love equally….But I don't think everyone else has to believe how we believe….I think there is a freedom of speech in this country and a freedom of free thought….
AFTAH will have more on our NLGJA interviews and Morales' revealing speech to the NLGJA in our next report. To read Cliff Kincaid's letter to FOX News CEO Roger Ailes concerning FOX's ongoing funding of the homosexual journalists group (which Kincaid calls part of the "homosexual rights movement"), go HERE.
Homosexual "marriage" goes before the Supreme Court
The discussion of media fairness comes at a critical time in the debate over homosexual "marriage," with the U.S. Supreme Court hearing two key cases today and tomorrow that will determine the future of the federal Defense of Marriage Act and citizens' right to affirm that only natural (traditional) marriages will be valid in their state. A rally in the nation's capital in defense of natural marriage, sponsored by the National Organization for Marriage, will be held tomorrow.
Homosexual activist blogger Joe Jervis ("Joe My God") did his best on Twitter to malign the pro-family rally, comparing its attendees to attendees of a Ku Klux Klan rally (see graphic below).
Here is this writer's Twitter reply to Jervis' malicious and preposterous analogy (see my Twitter page HERE):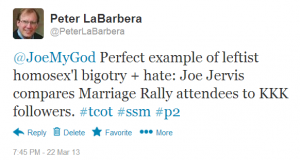 This article was posted on Monday, March 25th, 2013 at 1:18 pm and is filed under
"Civil Unions" & "Gay Marriage"
,
"Civil Unions" & "Gay Marriage"
,
CBS
,
CNN
,
Extremism
,
Media Promotion
,
Media's Liberal Bias (General)
,
Morality and Moral Judgments
,
MSNBC
,
NBC
,
News
,
YouTube videos
. You can follow any updates to this article through the
RSS 2.0
feed.