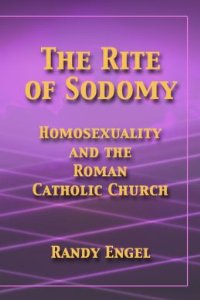 Writes ChurchMilitant.TV: "Catholic investigative journalist and author, Randy Engel, joins Michael Voris of ChurchMilitant.TV to talk about her landmark book The Rite of Sodomy. Over the course of 1,300 pages and 3,000 footnotes, Engel explains the immensity of the homosexual subculture that has hijacked the Roman Catholic Church." This program ("Mic'd up") aired September 20, 2013.
Editor's Note: I highly recommend Randy Engel's book for any serious student of the organized homosexuality ("gay") movement. I am not even a third of the way through it but already I have benefited tremendously from Randy's insights and research. There is MUCH information in this book that homosexual activists and their allies do not want you to know! I also appeared as a guest on Michael Voris' "Mic'd Up" program September 25th (2013) to discuss my America's Survival report on Fox News' pro-homosexual bias. We will post that video when it is available. — Peter LaBarbera, AFTAH

Buy The Rite of Sodomy:
http://newengelpublishing.com/
Watch ChurchMilitant.TV's investigative documentary on homosexuality:
http://www.youtube.com/watch?v=ZcmKHq…
This article was posted on Thursday, September 26th, 2013 at 6:23 pm and is filed under
"Gay" Subversion of Institutions
,
A - What does the Bible say about homosexuality?
,
C - Heroes for Truth
,
Catholic
,
Catholic general
,
Catholic Pro-Family
,
Child Exploitation
,
D - GLBTQ Pressure Within Churches
,
News
,
Pedophilia/Pederasty
,
Sodomy
,
The Bible, Churches, & Homosexuality
. You can follow any updates to this article through the
RSS 2.0
feed.