Many friendships between homosexual men "were born of casual sex," says "queer" website, which also recommends S&M and threesomes to young "gay" men
WARNING: Offensive descriptions of perverse behaviors
By Peter LaBarbera
When it comes to promiscuity and perversion, homosexual men are in a league by themselves. Here are some examples of what I'm calling "homo-promiscuity" covered by AFTAH over the years: go [HERE: San Francisco "leather" street festival]; [HERE: Chicago "International Mr. Leather" deviant-sex convention]; and [HERE: "Monogamish" homosexual activist and adoptive parent Dan Savage's three-ways].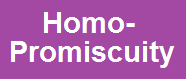 The phenomenon of male homo-promiscuity–which is routinely denied by LGBTQueer activists–makes sense, if you accept the presumption that men are more sexually aggressive than women–or at least civilized by women and genuine monogamy and marriage. As homosexual writer Jack Hart said, "Gay men have the opportunity to engage in sex with more people than do most heterosexual men." Put two (or more) guys together in relationships that are deviant by definition and you are asking for trouble (and higher rates of sexual disease, to be sure).
Here is a recent post (11/15/14) in the edgy website "Queerty," which is geared to homosexual men. The article is titled, "Thirty Thing Every Gay Man Must Do before Turning 30,"; Number 30 reads:
30. Make friends with someone you haven't slept with

Any guy guy who says he hasn't hooked up with at least 50 percent of his male friends is either lying or exhibits amazing self-control. Many a [sic] lifelong friendships between gay men were born of casual sex. But by the time you're 30, you should have at least one close gay friend who you have not touched below the waste.
Below is the actual Queerty graphic:
One of the weird things about monitoring the self-styled "queer" (LGBTQueer) movement is that its participants talk cavalierly about behavior that the rest of us–dare I say normal, straight people–find shocking, disgusting and/or …well, queer. Here are some more of Queerty's  "Before 30" recommendations to young "gay" men:
Recommendation #4."Wear sunscreen, even on your butt"
#2. Bottom…At least once [Translation: "bottom" is used as a verb here, i.e., being the anal "receiver" in the act of sodomy…As I said…disgusting]
#10.Explore a sexual fetish: "Whether it's some light S&M [sadomasochism], role playing, or having a threesome, trying something different in the bedroom is not only fun, but you may find an exciting new activity that you can now pursue for the next decade or five."
#16. Stay at a clothing-optional resort:"Everyone should experience the thrill of walking around the grounds of a hotel completely naked at least once in their life. Consider spending your 30th birthday in your birthday suit by booking a suite at a luxurious, clothing-optional resort."
#20. Date an older guy: "And by 'older' we mean at least a decade or two…intergenerational sex can be totally hot…."
___________________________________________________________________
Make a Year-End Gift to AFTAH, Order Banquet Video Featuring Dr. Michael Brown, Ex-"Gay" Stephen Black!
MAKE A YEAR-END DONATION TO AFTAH: Americans For Truth needs your help to keep on exposing and fighting the aggressive and well-funded LGBTQueer movement. Make your year-end, tax-deductible donation to us online at HERE.  Or simply send your check for $1,000, $500, $250, $100, $50, $25–or whatever you can give–to:
Americans For Truth [or AFTAH]
PO Box 5522
Naperville, IL 60567-5522
AFTAH DVD BANQUET VIDEO AVAILABLE for $20: AFTAH's October 2014 banquet featuring Dr. Mike Brown and Stephen Black was wonderful. Dr. Brown–who was presented with AFTAH's "American Truth-Teller Award" for 2014–was amazing in his ability to clearly and concisely teach Biblical truths and debunk the "gay Christian" myth. And Stephen Black's testimony of overcoming homosexuality–and molestation–in his own life was powerful! This video is an excellent teaching tool; show it at your weekly Bible study or have some friends over and present it as a video teach-in on "How to Respond to 'Gay' Activist Arguments." For more info, contact Brad Wallace at [email protected]; or call AFTAH at 312-324-3787.
HOW TO ORDER: To order a DVD video of the evening's speakers, send $20 postpaid to: AFTAH, PO Box 5522, Naperville, IL 60567-5522. Or give online HERE and write: "AFTAH Banquet Video" in the comments box at the bottom. For inquiries, write Brad Wallace at [email protected]. Or call us at 312-324-3787. General AFTAH email: [email protected].