Homosexual activist icon preferred "boyish-looking" young men as sexual partners;

Had sexual relationship with a minor boy while in his thirties;

Tricked fellow male sailors into coming to his apartment for deviant sex;

He likely staged a fake "hate crime" against himself;

Milk himself was molested by homosexual men as a boy

He led "active homosexual life" by age 14
____________________________________
TAKE ACTION: Contact your U.S. Representative and Senators and ask then to fight this outrage of naming a United States Navy ship after a sexual predator, homosexual activist politician Harvey Milk. According to his biographer, Milk as a sailor actually used trickery to lure other sailors into sodomitic encounters, and he had a sexual relationship with a minor boy when he was in his thirties. Call the House at 202-225-3121 and the Senate at 202-224-3121; find your federal representatives HERE.
___________________________
Folks, Barack Obama's Navy is about to honor a potential statutory rapist by naming a ship after assassinated openly homosexual San Francisco politician Harvey Milk, who is credited by LGBT advocates with being the first ardent homosexual activist politician to mobilize mass "gay" political power to win public office.  U.S. Naval Institute News was first to report:
The Navy is set to name a ship after the gay rights icon and San Francisco politician Harvey Milk, according to a Congressional notification obtained by USNI News.

The July 14, 2016 notification, signed by Secretary of the Navy Ray Mabus, indicated he intended to name a planned Military Sealift Command fleet oiler USNS Harvey Milk (T-AO-206). The ship would be the second of the John Lewis-class oilers being built by General Dynamics NASSCO in San Diego, Calif.

The Secretary of the Navy's office is deferring releasing additional information until the naming announcement, a Navy official told USNI News on Thursday.
As the late celebrated homosexual journalist Randy Shilts documented in his hagiography on Milk, "The Mayor of Castro Street," Milk, then in his thirties, had a sexual relationship with a 16 year-old boy, Jack Galen McKinley. (Another Milk biographer claimed that McKinley was 17, not 16.)
While in the Navy, stationed in San Diego, the promiscuous (and devious) Milk lured sailors en route to Korea to his apartment off base. Instead of crashing on the floor at the YMCA, Milk would tell the sailors, why not sleep in a comfortable bed in his apartment? "The guests often would not know that Milk's apartment had only one bed until they walked in the door," writes Shilts (see below). Shilts also lied about being dishonorably discharged from the Navy to win sympathy [see below; AFTAH will have more on Shilts in future posts.]
The Obama administration has bestowed several posthumous honors on Milk as part of its aggressive campaign to promote the homosexual, bisexual and transgender political agenda. In 2009, Obama awarded Milk with the Presidential Medal of Freedom (see video below) and in 2014 the U.S. Postal Service created a stamp honoring Milk (see graphic and video below), something only a few great Americans have achieved.
Of course, Milk was also a "progressive" (with some strange alliances, including with mass-suicide cult leader Jim Jones) so it is no wonder that Obama is trying to turn him into a hero not just for LGBT activists, but the whole nation. Many school children will be indoctrinated in the "hero" image of this corrupt homosexual activist (see this helpful resource against California's "Harvey Milk Day"); it is our task to bring out the full truth. — @Peter LaBarbera, AFTAH
__________________________
Here is a good background piece that contains many politically incorrect facts about Milk's character and his promiscuous sex life, written by Family Research Council senior fellow Peter Sprigg, in 2009 for WND.com [bolded emphasis ours]:
A Presidential Medal Based on a Sex Life
Exclusive: Peter Sprigg searches in vain for reason Obama is honoring Harvey Milk
WorldNetDaily
Posted: August 12, 2009
When President Obama today awards a posthumous Presidential Medal of Freedom to Harvey Milk, it may mark the first time in history that the nation's highest civilian award has been granted primarily on the basis of someone's sex life.
As the White House announcement explained, "Harvey Milk became the first openly gay elected official from a major city in the United States when he was elected to the San Francisco Board of Supervisors in 1977." Yet Milk served in that office for less than a year, so that hardly qualifies him for the Medal of Freedom. Milk was also assassinated in November of 1978. But that cannot qualify him for this award, either – San Francisco Mayor George Moscone was killed by the same assassin the same day, but he will receive no Medal of Freedom. At least lesbian Billie Jean King, who will also be honored by Obama, was a genuine tennis star.
But Milk is famous only for winning one election, being murdered – and having sex with men. In his "gay rights" stump speech, Milk once said, "Like every other group, we must be judged by our leaders and by those who are themselves gay." What can we conclude about the homosexual movement in America based on the life of Harvey Milk? I recently decided to find out by reading "gay journalist" Randy Shilts' 1982 biography of Milk, "The Mayor of Castro Street."
According to Shilts, Milk's "first sexual experiences were in the standing room section of the Metropolitan Opera [in New York], a gathering place for homosexual men. … Random groping led to brief trysts after the performances." Milk, "by his own account, was leading an active homosexual life by the age of 14."
He continued to engage in homosexual conduct while serving in the U. S. Navy. Shilts reports that Milk, who had his own apartment off base, would pick up hitchhiking sailors by offering them a bed to sleep in. "The guests often would not know that Milk's apartment had only one bed until they walked in the door."
Milk later exploited his time in the Navy during his political career – by lying about it, claiming falsely that he had received a dishonorable discharge for his homosexuality. Milk "knew the story would make good copy," according to Shilts. "Maybe people will read it, feel sorry for me and then vote for me," Milk told one campaign manager.
The information Shilts provides about Milk's sexual partners is revealing about the nature of male homosexual life in America. Milk's first long-term lover, Joe, had his "introduction to gay life" when he performed sex acts upon men in a movie theatre for money – at age 9. Milk's next lover, Craig, had been arrested after having sex with a 40-year-old man – when Craig was 14. He met Milk when he was 17 – "[I]t would be to such boyish-looking men in their late teens and early 20s that Milk would be attracted for the rest of his life," Shilts reports. Another lover, Jack, moved in with Milk when he was 16 and Milk was 33. Jack attempted suicide several times, and once when he physically attacked Milk, "Harvey literally tied him up and threw him in a closet."
Milk showed a casual attitude toward the use of illegal recreational drugs as well as toward sex. Besides homosexuals, Milk had another key constituency – "potheads," according to Shilts. One key supporter ran "a marijuana supermarket from his bustling apartment." Shilts reports that Milk arranged several jobs for his partner Jack L. – including one manufacturing "poppers," an illegal street drug. When a doctor asked what he could do for gay people, Milk replied, "Write more prescriptions for Quaaludes."
Milk may even have faked a "hate crime" to advance his political ambitions. The windows of Milk's camera shop were "blown out by … M-80 mega-firecrackers." Shilts says, "Years later friends hinted broadly that Harvey had more than a little foreknowledge that the explosions would happen. '… [T]he campaign was sort of going slow, and, well …'"
Even homosexuals were divided about Milk during his lifetime. According to Shilts, "Lesbian leaders had long ago spread the word that Harvey was anti-woman, partially for his close alliances with drag queens, and few ever backed Harvey."
Shilts' book (like last year's film "Milk") makes it clear that Milk was a tireless campaigner who formed unique political alliances – for example, between San Francisco's homosexuals and labor unions. And he had courage – Milk actually anticipated that he would be assassinated.
But in the few months that Milk actually held elective office, "Harvey left little doubt that his term would be marked more by his unique brand of political theater than by the substantive tasks of the board," according to Shilts. And that "political theater" had mostly to do with advancing the homosexual movement – in his "political will," Milk declared, "Almost everything that was done was done with an eye on the gay movement."
In other word, it was all about sex. Pro-homosexual activists will describe the issue as one of identity – "who they are." But the real issue is one of behavior – what they do. And what Harvey Milk (like other homosexual activists) wanted was not only the freedom to engage in homosexual sex, but the right to do so without ever being criticized. Milk told one audience that "it is madness to … be ashamed of the sexual act, the act that conceived you. …" Yet homosexual acts never conceived anyone, which is what separates them, undeniably, from heterosexual acts.
Since Harvey Milk died from an assassin's bullet, over a quarter million American men have died of AIDS, which they contracted because they had sex with other men. What's truly "madness" is that someone whose only claim to fame is that they promoted such deadly behavior should be honored with a Presidential Medal of Freedom.
Peter Sprigg serves as the senior fellow for policy studies at the Family Research Council.
________________________________
President Obama honors Harvey Milk with Presidential Medal of Freedom, August 12, 2009:
________________________________
The following is the 2014 White House announcement ceremony for the Harvey Milk stamp put on by the United States Postal Service in concert with the Harvey Milk Foundation [Note that there are some key facts missing in the latter's "Official Harvey Milk Biography," as well as the (liberal) Wikipedia bio entry on Milk]:
__________________________________
Tweets from AFTAH President Peter LaBarbera after it was reported that the U.S. Navy is preparing to name a ship after Harvey Milk: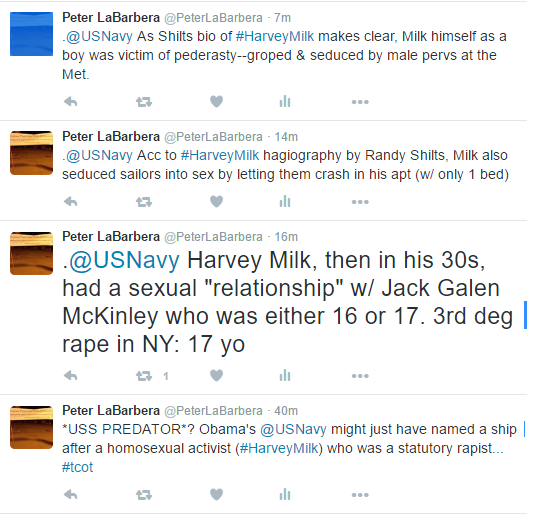 This article was posted on Friday, July 29th, 2016 at 11:06 pm and is filed under
"Sexual Orientation"/"Gender Identity" and the Law
,
Harvey Milk
,
Homosexual History
,
News
,
Pedophilia/Pederasty
,
Promiscuity
,
Redefining Morality
,
Sexual Revolution
,
Sodomy
,
YouTube videos
. You can follow any updates to this article through the
RSS 2.0
feed.