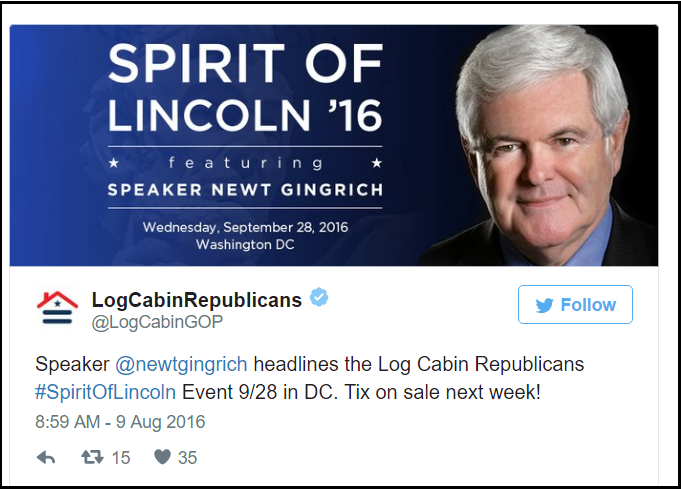 By Peter LaBarbera
Former Speaker of the House Newt Gingrich is scheduled to speak at the annual fundraising dinner for the Log Cabin Republicans (LCR) this Wednesday, September 28. LCR has a long history of promoting homosexualism in the GOP and opposing most of the pro-family planks on "gay" issues that Gingrich supports.
LCR supports homosexual "marriage" and strongly opposes a federal constitutional amendment preserving marriage as between a man and a woman. On July 12, just after the GOP Platform Committee passed a conservative, pro-family platform, LCR president Gregory Angelo sent out a press release/money pitch blasting the Committee:
"There's no way to sugar-coat this: I'm mad as hell — and I know you are, too.

"Moments ago, the Republican Party passed the most anti-LGBT Platform in the Party's 162-year history.

"Opposition to marriage equality, nonsense about bathrooms, an endorsement of the debunked psychological practice of "pray the gay away" — it's all in there."
I will translate Angelo's "gay"-activist-speak: he's furious that the GOP:
opposes homosexuality-based "marriage";
opposes men who live as "women" using public women's restrooms inhabited by ladies and girls (note that many cross-dressing men, like this Idaho "transgender" miscreant voyeur with a video camera, still say they are sexually attracted to females); and
opposes laws banning sex-confused minors (including victims of child sexual abuse) from seeking pro-heterosexual-change therapy. (Note Angelo's "pray away the gay" mockery of Christians who seek God's help in overcoming the sinful pull of homosexuality; I assume here that most Republicans still support the notion that God answers prayers and helps people overcome besetting sins.)
Surely, Newt Gingrich agrees with those three GOP Platform points that made Angelo "mad as hell"–yet Gingrich is lending his conservative name to Angelo's socially-left LGBT Republican organization that mocks Bible-believing Christians. Why?
Newt is "growing" (liberals would say)
Over the years, Gingrich has slowly moderated his position and rhetoric against homosexualism. He told the Washington Examiner's Paul Bedard, regarding his Log Cabin speech, "I am going to focus on national security and issues that bring us together." However, as described above, LCR's rhetoric and approach to social issues is hardly unifying. (Angelo's inflammatory "pray away the gay" smear of Christians overcoming homosexuality is identical to that used by left-wing "gay" activists like Wayne Besen.)
In a radio interview today on Texas Pastor and radio host Greg Young's program, "Chosen Generation," I chided Newt–whom I have long admired–for failing what I call the "Sexual Sin Substitution Test," by helping LCR's cause:
"By speaking for the Log Cabin Republicans, which is a homosexual activist group that happens to be Republican — their priority is homosexual activism — Newt Gingrich is giving a coup to the homosexual activist lobby…Would Newt Gingrich speak at a group [called]…Republicans For Pornography Use? Would Newt Gingrich lend his name and his credibility as a conservative to such an organization? He would not, and yet here is speaking at Log Cabin….
To hear the interview, start at 100:30 for the entire segment, and around 118:00 for the portion about Gingrich:
The Politics
In 2008, AFTAH reported that LCR boasted a membership of just 20,000, begging the question: how many millions of pro-family voters is the GOP willing to alienate to court the minuscule sliver of "gay Republicans"?
In reality, Gingrich's gambit–like the Trump/RNC "LGBTQ For Trump" t-shirts and Trump's choice of openly homosexual businessman Peter Thiel to speak on the biggest night of the Republican convention–is more about remaking the GOP's image in a "gay"-saturated culture than it is about winning a few thousand homosexual voters. (Besides, homosexual voters are notoriously Democratic.)
Bottom line: savvy yet unprincipled Republicans are catering to post-Christian morality, rather than doing the tough work to actually expand the appeal of their party's pro-family Platform.
More on the GOP, the Log Cabin Republicans, and the LGBTQ agenda in upcoming posts.