Excerpted from Studds, 1st Openly Gay Congressman, Dies, by Jay Lindsay, published Oct 14, 2006, by Associated Press:
Former Rep. Gerry Studds, who became the first openly gay member of Congress when his homosexuality was exposed during a teenage page sex scandal, died early Saturday. He was 69.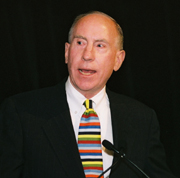 Studds died at Boston Medical Center several days after he collapsed while walking his dog, his husband said. Doctors determined his loss of consciousness was due to a blood clot in his lung, [said] Dean Hara …who married Studds shortly after same-sex marriage was legalized in Massachusetts in 2004.
In 1983, Studds acknowledged his homosexuality after a 27-year-old man disclosed that he and Studds had had a sexual relationship a decade earlier when the man was a teenage congressional page…
At the time, Studds called the relationship with the teenage page, which included a trip to Europe, "a very serious error in judgment." But he did not apologize and defended the relationship as a consensual relationship with a young adult. The former page later appeared publicly with Studds in support of him…
Hara said Studds was never ashamed of the relationship with the page.
"This young man knew what he was doing," Hara said. "He was at (Studds') side."
…In 1996, Congress named the 842-square-mile Gerry E. Studds Stellwagen Bank National Marine Sanctuary after him in recognition of his work protecting the marine environment.