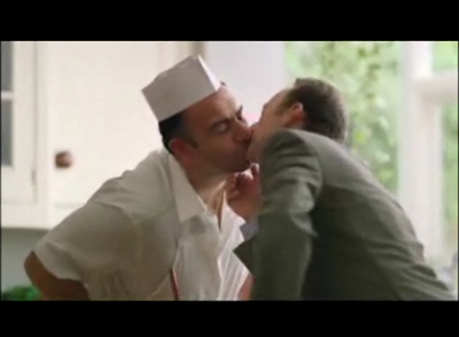 The Heinz website reports regarding the company's withdrawal of this homosexual-themed ad (picture at left; Contact Heinz HERE):

Heinz Unit in the UK Withdraws TV Commercial for Deli Mayonnaise

LONDON, England–June 23–BUSINESS WIRE–Heinz UK today confirmed that it withdrew a UK TV commercial for Deli Mayo last week following consumer feedback. The advertisement was no longer on air in the UK as of Friday, June 20.

"It is our policy to listen to consumers. We recognize that some consumers raised concerns over the content of the ad and this prompted our decision to withdraw it," said Nigel Dickie, Director of Corporate Affairs for Heinz UK.

"The advertisement, part of a short-run campaign, was intended to be humorous and we apologize to anyone who felt offended," said Dickie.

The Deli Mayo TV advertisement in the UK was created as a humorous take on a slice of life and featured a genuine New York deli chef taking the place of a mum preparing great tasting sandwiches in the kitchen using UK Deli Mayo.
Read the rest of this article »