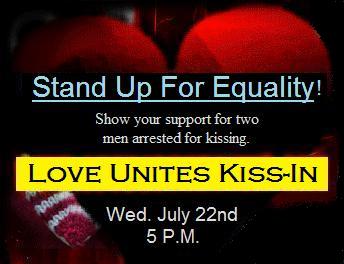 Harass the Mormons, Call it a "Dialogue": The Empowering Spirits Foundation, a homosexual activist group, advertises a direct-action "kiss in" protest against a Mormon temple in San Diego scheduled for tonight (Wednesday, July 22) — even as it asks for a "respectful dialogue" with Church of Latter-day Saints (LDS) officials. At the protest, same-sex couples will kiss each other as an act of defiance against the LDS church for supporting defense-of-marriage initiatives in California and across the United States.
By Peter LaBarbera
Dear Readers,
Imagine this nightmare scenario: four days ago, your family received a letter out of the blue from a homosexual activist organization notifying you, in "respectful" language, that your family is the target of a protest. Upset that you sent money to support Proposition 8 in California — reinstating marriage as between a man and a woman — the "gay" group informs you that about ten homosexual couples will show up on the sidewalk in front of your house on July 22nd (today) at 5:00 PM and engage in prolonged same-sex kissing with each other.
Wielding their public deviance as a political tool, the militant "gay" protesters call their event a "kiss-in" — knowing that you regard their homosexual behavior as unnatural and immoral, that it makes you extremely uncomfortable, and that it will embarrass you in front of your neighbors (and the media, whom they called in). Nevertheless, they assure you that they "respect" you and your religion and that they are happy to engage in "dialogue" with you in between their lip-locking acts of homoerotic defiance.
Read the rest of this article »