"One wonders how the case would have come out if the Colorado Commission had not been overtly hostile to Jack Phillips."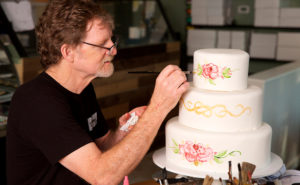 By William Olson and Herb Titus, first published June 5, 2018, by Restoring Liberty
[On June 4], the Supreme Court ruled in favor of cake maker Jack Phillips in the Masterpiece Cakeshop case. Justice Kennedy wrote the decision for the Court, joined by six other justices, both liberal and conservative. Justices Gorsuch and Alito concurred, Justices Thomas and Gorsuch concurred, Kagan and Breyer concurred, and Justices Ginsburg and Sotomayor dissented.
There is very little principled analysis in any of the Court's five opinions except for that of Justice Thomas, who concluded that Phillips was denied his freedom of speech.
Justice Kennedy's majority opinion focused mainly on the despicable treatment Phillips received in front of the Colorado Civil Rights Commission. In particular, Justice Kennedy noted that the Commission ruled against Phillips for his refusal to bake a pro-gay cake, but ruled in favor of three other bakers who refused to bake anti-gay cakes.
The significance of the majority opinion is nicely summed up in its last paragraph: "The outcome of cases like this in other circumstances must await further elaboration in the courts, all in the context of recognizing that these disputes must be resolved with tolerance, without undue disrespect to sincere religious beliefs, and without subjecting gay persons to indignities when they seek goods and services in an open market."
In other words, this decision is essentially confined to his facts — ruling for Jack Phillips because the Colorado commission was openly hostile towards Phillips' religious beliefs. Every future case involving such a state "public accommodations" law, however, will be a balancing act, conducted by federal judges, pitting homosexual "dignity" against sincere religious beliefs.
Read the rest of this article »