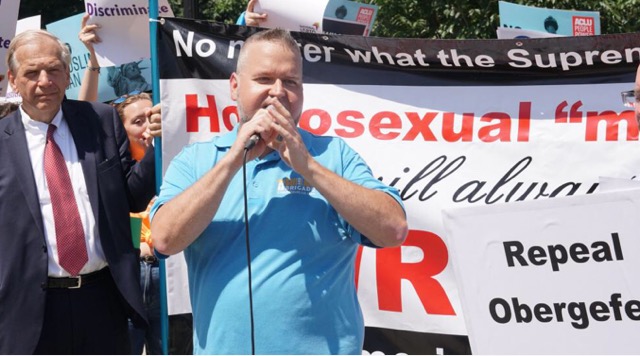 _________________________
They Have the Media.
They Have the Power.
They Have the Money.
But We Have the Truth.
What: Media Event and Rally Against Obergefell and Fake Gay 'Marriage' & to Stop Freedom-Crushing LGBTQ "Equality Act"
When: Wednesday, June 26, 2019, 10:30 AM – the 4th anniversary of the Supreme Court's unconstitutional, immoral and tyrannical Obergefell v Hodges ruling imposing same-sex "marriage" on America.
Where: Directly in front of the U.S. Supreme Court, 1 First Street NE, Washington, D.C.
For More Info: Contact Americans For Truth at americansfortruth@gmail.com or 312-324-3787. Or contact Brad Wallace at connops@yahoo.com.
Four years ago, on June 26, 2015, the Supreme Court arrogantly imposed homosexual "marriage" on the nation – overriding amendments and laws in more than 30 states protecting marriage as between a man and a woman. Join concerned citizens testifying to the tragedy of this evil ruling by 5 unelected Justices. Some of our speakers once considered themselves "gay" or "transgender"—and will discuss how Obergefell was based on a lie: that homosexuality, like race, is unchangeable. Come hear their powerful testimonies! 2019 is also the 50-year anniversary of the anti-cop "Stonewall Riots" in Greenwich Village, New York that launched the destructive, in-your-face "gay" revolution in the USA.
We will also be speaking out against the so-called LGBTQ "Equality Act" (HR 5)—which would enshrine immoral homosexual lifestyles and gender confusion (transgenderism) in America's landmark Civil Rights Act. The "Equality Act," if ever signed into law, would be used by leftist activists as a legal bludgeon to sue and bully Americans and people of faith for not supporting the LGBTQ agenda, including "gay marriage." It would also codify "transgenderism" into federal civil rights law—thus enforcing the "trans-insanity" of biological men using female locker rooms and restrooms, and biological males being allowed to compete (and win) in female sports events, merely because they identity as trans "women."
Speakers (as of 6/22):
Stephen Black, former homosexual, First Stone Ministries
Laura Perry, former "Female to Male" transgender; see Laura's powerful testimony HERE.
Pastor Stephen Broden, Gone2Far.org; Fair Park Bible Fellowship, Christian activist
Peter LaBarbera, Americans For Truth About Homosexuality (AFTAH.org); founder, Center For Morality
David Arthur, former homosexual prostitute, founder, I Belong Amen Ministries
Bruce Johnson, Metropolitan Marriage Association
William Olson, constitutional law expert, Conservative Legal Defense and Education Fund;
Don Blake, Virginia Christian Alliance
Doug Mainwairing, ex-"gay" advocate; writer, LifeSiteNews
Jonathan Alexander, senior counsel for governmental affairs, Liberty Counsel
Greg Quinlan, former "gay" activist; Garden State Families
Diane Gramley, American Family Association of Pennsylvania
Grace Harley, former female-to-male "transgender"
Dr. Scott Lively, author, Christian pastor and activist;
Guyla Mills, Christian advocate; led fight for Nebraska DOMA (Defense of Marriage Amendment);
Eric Holmberg, Christian filmmaker, The Apologetics Group
Mike Heath, Helping Hands Ministries
Shannon Martinez, former prostitute saved by Jesus Christ; human trafficking survivor, founder, Shame Eaters, ShannonSpeaks.org
Rich Penkowski, Warriors For Christ
Pastor Dale Walker, Tennessee Pastors Network
Sponsored by Americans For Truth, Center For Morality, Conservative Legal Defense and Education Fund, First Stone Ministries, AFA of Pennsylvania and the Repeal Obergefell Coalition.