Words have meaning. To be a virgin is not just to abstain from sexual intercourse with a man, but to remain completely chaste and pure. It's no more accurate to say that a sexually active lesbian is a virgin that it was for Bill Clinton to say "I did not have sex with that woman" — and furthermore, it's terribly dangerous to mislead young people like this. When young people heard Bill Clinton equivocate and deny that oral sex was indeed sex, they felt liberty to try it themselves — and now society is reaping the consequences. Similarly, if Suze Orman identifies herself as a lesbian while calling herself a virgin, she sends a confusing and mixed message — and a deceitful one — to young women.
Homosexual sex may not carry the "risk" (or as we Christians like to think if it, the great blessing) of pregnancy, but homosexual sex practices (lesbian, "gay," or "trans") substantially increase the risk of physical, emotional, and spiritual damage to the human body and soul. If Suze Orman has been in a lesbian relationship for seven years, she is no virgin. If you "experiment with" or engage openly in homosexual sex (or are heterosexually intimate, even without intercourse), you cannot please God unless you repent (ie, change). — Sonja Dalton
——————————
The following is excerpted from She's So Money (an interview with financial guru Suze Orman), by Deborah Solomon, published Feb 25, 2007, by New York Times Magazine: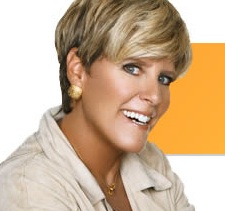 Q: Are you married?
A: I'm in a relationship with life. My life is just out there. I'm on the road every day. I love my life.
Q: Meaning what? Do you live with anyone?
A: K.T. is my life partner. K.T. stands for Kathy Travis. We're going on seven years. I have never been with a man in my whole life. I'm still a 55-year-old virgin.
Q: Would you like to get married to K.T.?
A: Yes. Absolutely. Both of us have millions of dollars in our name. It's killing me that upon my death, K.T. is going to lose 50 percent of everything I have to estate taxes. Or vice versa.
Continue reading at New York Times Magazine…
This article was posted on Tuesday, February 27th, 2007 at 9:44 pm and is filed under
"Civil Unions" & "Gay Marriage"
,
02 - Lesbian
,
A - What does the Bible say about homosexuality?
,
Celebrities
,
Current State Law
,
New York Times
,
News
,
Oprah
,
Pending Legislation
. You can follow any updates to this article through the
RSS 2.0
feed.