By Peter LaBarbera
"What's clear from our experience and from science is that being gay or lesbian is an immutable, unchangeable gift from God, one for which I am very grateful. And it would fly in the face of my respect for God to give that gift back. It would simply be unethical and hurtful to our relationship with the Creator to give back gifts that God has given us…." — Homosexual activist Harry Knox of the "gay" lobby group Human Rights Campaign, on MSNBC debate 3-23-07
Woe to those who call evil good and good evil,
who put darkness for light
and light for darkness.– Old Testament prophet Isaiah (Is. 5:20)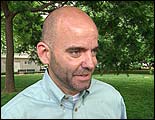 Harry Knox promotes Big Lie for HRC
Please take five minutes to watch the fascinating online YouTube video above (click the "play" button on the screen) of a March 23, 2007 MSNBC debate between homosexual activist Harry Knox and pro-family warrior Matt Barber. The first time I watched this, I was flabbergasted at the gall of Knox, Director of the Religion and Faith Program for Human Rights Campaign (HRC, the world's most powerful homosexual pressure group).
What better example of Hitler's "Big Lie" technique than to transform homosexuality from an abominable sin and perversion … to a sickness … to a condition … to an inborn "orientation" that is actually a gift from God!
Yeah, that's it — a wonderful gift that you'd never want to give back! (Strange how so many homosexual men are getting sick and dying in the prime of their life from practicing their supposed heavenly "gift.")
I think we've discovered Satan's Talking Points on homosexuality in the swank D.C. offices of Human Rights Campaign. HRC strategists understand that to neutralize America's religious opposition to their destructive agenda, they must co-opt Christianity and the Bible itself.
The notion that homosexual "orientation" is a "gift from God" is the biggest lie in a "gay" arsenal filled with falsehoods — so start looking for that liberal echo chamber we call "the media" to begin giving it wide play.
The MSNBC debate was instigated by Al Mohler's column (naively ill-timed, in my view) speculating on the possibility of hormone treatments to "fix" homosexuality in the womb if a genetic component to homosexuality were to be discovered.
By the way, Knox's able opponent on the MSNBC debate, my good friend Matt Barber, is Policy Director for Cultural Issues at Concerned Women for America. Matt is a former professional heavyweight boxer (you can watch one his knockouts online on YouTube HERE) who was fired by the insurance giant Allstate after writing an online article — on his own time — critical of homosexual "marriage." (Ironically, it was an HRC staffer who spotted Matt's article and reported him to the Diversity Police at Allstate, leading to his firing. Oh, but I almost forgot: it is those poor, aggrieved homosexuals who are getting fired by the thousands "just for being gay" ….)
Matt is also former Corporate Outreach Director for Americans For Truth. We're delighted that thanks to Allstate's intolerance and pro-homosexual corporate agenda, he's now "in the ring" in Washington, D.C., throwing rhetorical jabs on the side of God and truth.
Our next e-mail will discuss how adult homosexual activists like Knox and Soulforce's Mel White are corrupting impressionable youth — a spiritual "crime" for which they will one day pay dearly if they don't repent and turn away from their evil promotion of sexual sin.
Again, here is that YouTube link for the MSNBC debate featuring Harry Knox's Big Lie about God. And please pray that God will lead the confused and lost Mr. Knox out of homosexuality.
This article was posted on Thursday, April 12th, 2007 at 6:49 pm and is filed under
A - What does the Bible say about homosexuality?
,
Born that Way?
,
Christian
,
Corporate Promotion
,
D - GLBTQ Pressure Within Churches
,
E - Praying for the Lost
,
Homosexual Quotes
,
HRC
,
News
,
Religious Leaders
,
The Bible, Churches, & Homosexuality
. You can follow any updates to this article through the
RSS 2.0
feed.