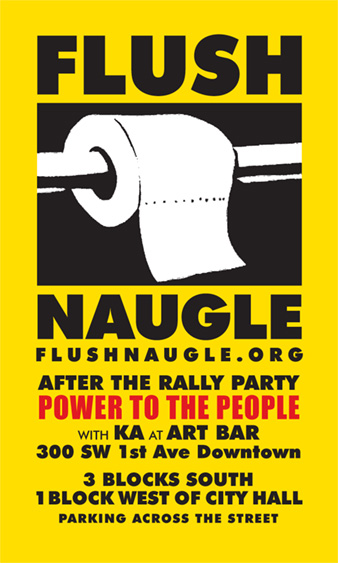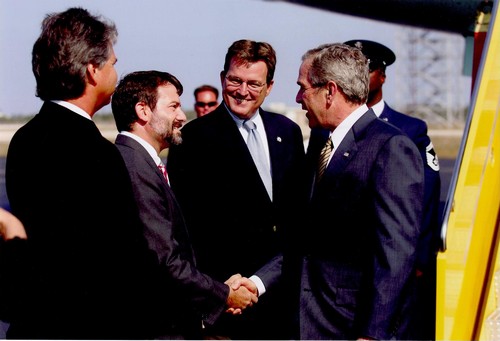 Mayor Naugle is pictured above to the direct left of President Bush (he is facing the camera). At left, homosexual activists' "Flush Naugle" website mocks his stand against homosexual public bathroom sex.
TAKE ACTION:  Watch yesterday's Sun-Sentinel video of Ft. Lauderdale Mayor Jim Naugle's press conference in which he apologizes for not doing more to stop homosexual "sex" in the city's public and beach restrooms. Naugle also opposes housing a homosexual library collection containing hard-core pornographic items in a public library.  E-mail Mayor Naugle at mayorjames@aol.com, and thank him for refusing to be intimidated by a vocal fringe and the liberal media. And contact the Ft. Lauderdale city commissioners and urge them to support the Mayor's push to protect children and uphold decency.
A note on the Naugle story: will the day ever come when LEADERS of the proud "gay" lobby apologize for their community's own excesses — e.g., tolerating or encouraging men to commit anonymous sodomies with other men in public restrooms, parks, and bathhouses (sex clubs)?
Kudos to Mayor Naugle. I almost fell off my seat watching this video. Finally, a public servant with the courage to stand up to the homosexual militants and their fellow travelers in the media. Imagine: a big-city mayor tries to stop gross perversions from occurring in public places — and the pro-"gay" lobby says HE is the problem and is embarrassing the city! — Peter LaBarbera  
_________________________
From today's Florida Sun-Sentinel Newspaper:
Fort Lauderdale mayor issues apology, but not to gay community 
FORT LAUDERDALE — Mayor Jim Naugle issued a public apology on the steps of City Hall Tuesday afternoon, but it wasn't the apology the gay community was looking for.
Naugle apologized for underestimating the problem of men having sex with each other in public restrooms, and urged people to call police to complain when they come upon it. He also said Broward County leads the nation in the incidence of new AIDS cases involving men having sex with men, and questioned whether the county tourism office should be welcoming them here.
Naugle alerted the media that he was holding a news conference that would include "an apology."
Gay activists and others have been calling for a public apology form the mayor, and for his resignation, since the South Florida Sun-Sentinel published Naugle's comments earlier this month about gays. In article about a proposed self-cleaning, automatic toilet the city was going to buy for the beach, Naugle said an added benefit would be that it would deter men from using it for "homosexual activity," which he said was a problem in public restrooms.
Click HERE to read the rest of the Sun-Sentinel story (and watch Mayor Naugle's press conference)
This article was posted on Thursday, July 26th, 2007 at 6:04 am and is filed under
Bathhouses
,
Down Low
,
Gay Culture
,
Homosexual Hate
,
Homosexual Hate Speech
,
Homosexual Pornography & Film Festivals
,
Media Promotion
,
News
,
Politicians & Public Officials
,
Public Indecency
,
Public Sex in Your Neighborhood?
,
South Florida
. You can follow any updates to this article through the
RSS 2.0
feed.