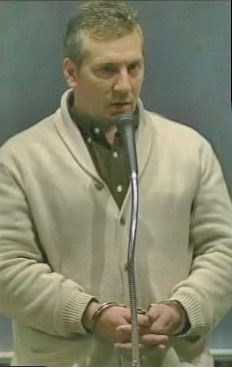 NOTE:  David Parker (at left) will be a keynote speaker at Americans For Truth's upcoming dinner banquet in Naperville, Illinois (outside Chicago) on Saturday, Oct. 6. His is one of the most important cases in the country, as parents' rights to guide their children's moral upbringing is on the line. Click HERE for more information on the AFTAH banquet. 
By Brian Camenker, MassResistance.org
In a time of universal deceit telling the truth is a revolutionary act.
– George Orwell
National homosexual groups targeting children file in US First Circuit Court to stop appeal in David Parker lawsuit.
GLSEN and PFLAG, as well as GLAD all file appearance in case. Reveals nationwide importance of Parker's court action. 
As David Parker's lawyers prepare to appeal the ruling against his federal civil rights lawsuit against the Lexington School system, three major homosexual activist groups have officially filed their appearance in the case, and will be submitting amicus briefs as part of their effort to stop his appeal.
Read the official appearance document here:
http://www.massresistance.org/docs/parker_lawsuit/GLSEN_appearance_doc.pdf
David Parker, his wife, and another couple, the Wirthlins, are suing the Lexington, MA school system over the teaching and normalization of homosexual behavior in the elementary schools, purposefully without parents' knowledge or consent, or ability to opt out.
Earlier this year, Federal District Court Judge Mark Wolf issued an unbelievable ruling against the Parkers which, among other things, gives schools in Massachusetts the right to teach homosexuality at will, without parents' input, consent, or even knowledge. The Parkers are appealing.
Read Wolf's disturbing ruling here:
http://www.massresistance.org/docs/parker_lawsuit/hearing_020707/hearing_dismissed.html
More on the Parkers' case and events leading up to it.
http://www.massresistance.org/docs/parker/index.html
The three homosexual groups which have filed to take part in the defense of the school system are:
GLSEN – Gay Lesbian Straight Education Network
Very powerful national homosexual group targeting children in schools. This is the group that organizes the horrific "Gay-straight alliance" clubs, homosexual school assemblies, the "Day of Silence", in schools around the country, and annual GLSEN conferences pushing the most extreme homosexual topics and issues on vulnerable kids. 
PFLAG – Parents, Families and Friends of Lesbians and Gays
Also in public schools around the country, and in many ways even more destructive than GLSEN. Very heavy into transgenderism and related behaviors. Recent PFLAG conference also teamed up with the "New England Leather Alliance" which promotes bondage and sado-machosism.
GLAD – Gay and Lesbian Advocates and Defenders
Well-funded and influential Massachusetts homosexual legal group (partially funded from public money) which specializes in suing government agencies and businesses to force them to accept homosexuality, transgenderism, public sex, and related behaviors. This was the group behind the Goodridge decision on same-sex "marriage" and which is pushing the new "transgender rights and hate crimes" bill.
(NOTE: We will be presenting more on the history and activities of these groups over the next few months.)
Piling on
These are just the latest pro-homosexual groups to be involved in the fight against David Parker (and all parents).
Pro-homosexual groups already involved in this case and continuing to fight against the Parkers include:
American Civil Liberties Union (ACLU)
Human Rights Campaign (national homosexual organization, which gets funding from major US corporations)
Massachusetts Teachers Association
Respecting Differences (Lexington activist group)
There is no question that the national homosexual movement considers this a major threat to their ability to go into the public schools and proselytize children without the parents having any power to stop them. This case has already received considerable national media attention that will undoubtedly continue. The Parkers' lawyers have indicated that they are prepared to fight this as far up the judicial ladder as is necessary to win.
What's next?
This week the Parkers are to submit their brief to the First Circuit Court of Appeals. Then, within approximately 40 days, the opposition will respond with their own brief. There will be a plaintiff's response, and the judge will then decide whether to grant the appeal.
We will keep you informed on each development. See THIS RELATED David Parker story, also published by MassResistance.org.
This article was posted on Tuesday, August 21st, 2007 at 11:06 pm and is filed under
ACLU - Gay & Lesbian Project
,
Boards, Administrators, Teachers, Counselors
,
Books & Required Reading in Public Schools
,
Christian Persecution
,
Day of Silence
,
Diversity & Tolerance Propaganda
,
Freedom Under Fire
,
Gay Straight Alliance
,
GLBTQ Lawsuits & Retribution
,
GLBTQ Targeting Youth and Schools
,
GLSEN
,
Government Promotion
,
HRC
,
Leather
,
NEA
,
New England Leather Alliance
,
News
,
PFLAG
,
Sex-Ed Curriculum
,
The Agenda: GLBTQ & Activist Groups
,
Youth and School Related Organizations
. You can follow any updates to this article through the
RSS 2.0
feed.