AFTAH in the news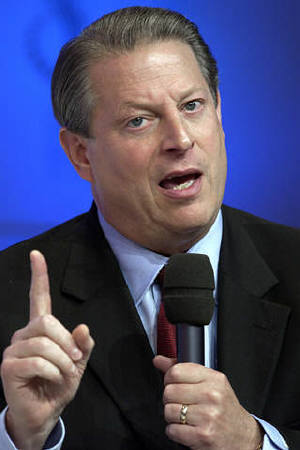 Is the Bible an "inconvenient truth" to the former Vice President? Click HERE to listen to the One News Now report on Mr. Gore's latest capitulation to homosexual activism.
Jim Brown of the American Family Association news service One News Now reports on the latest from Al Gore. Click HERE to listen to the report online on the ONN website (click the "HEAR REPORT" button at the top right).
One News Now, Jan. 28. To sign up for ONN updates, click HERE
Al Gore, the most recent Democratic vice president of the United States, has announced his support for same-sex "marriage," saying the legalization of such unions does not threaten heterosexuals. Conservative activist Peter LaBarbera says it was only a matter of time before Gore openly offered up such an endorsement.
Gore has joined New York Governor Eliot Spitzer and other leading Democrats in calling for the legalization of homosexual marriage. Commenting in a video featured on his Current TV network, the former Democratic member of Congress and nominee for president says it is wrong for the government to "discriminate" against individuals because of their sexual orientation.
"Gay men and women ought to have the same rights as heterosexual men and women to make contracts, to have hospital visiting rights, to join together in marriage," states Gore, "and I don't understand why it is considered by some people to be a threat to heterosexual marriage to allow it by gays and lesbians."
According to the former VP, the "loyalty and love" that two men or two women feel for one another when they "fall in love ought to be celebrated and encouraged."
"Shouldn't we be promoting the kind of faithfulness and loyalty to one's partner regardless of sexual orientation?" Gore asks. "Because if you don't do that, then to that extent you're promoting promiscuity — and you're promoting all the problems that can result from promiscuity."
Peter LaBarbera, executive director of the pro-family group Americans for Truth about Homosexuality, says Gore is asking the wrong question. "It's not just how it affects my marriage," LaBarbera responds. "First of all, it's whether it's right or wrong."
The pro-family spokesman points out that Gore's stance is inconsistent with biblical teaching. "I would have more respect for Al Gore if he announced, 'I'm leaving my Christian faith and I'm embracing homosexual marriage' — because then, at least, he would be consistent," says LaBarbera. "But you don't support marriage between men; that runs against all of human history up to these last few years …. It's just a sad day."
Still, LaBarbera is not surprised Gore wants to attach marriage to homosexual behavior. "We've been saying this for years, and we knew the day was coming when the liberals would make their move from domestic partnership and civil unions to outright homosexual so-called 'marriage,'" he shares. "We knew the sellout was coming, because the distance between embracing homosexual relationships and not embracing them — as opposed to going from civil unions to gay marriage — is much bigger."
The Americans for Truth leader explains his argument. "In other words … once you make the jump in saying that the state should endorse and sanction and bless homosexual relationships, that's the big jump," he says. "Once you've crossed that hurdle, these other things are not as big."
LaBarbera says Al Gore is wrong to suggest homosexual marriage is not a threat to everyone else. He notes in Massachusetts, homosexual indoctrination has increased in that state's schools since same-sex marriage was legalized. In addition, he believes Gore's comments will likely increase the pressure on Democratic presidential candidates to follow suit. The top three contenders — Hillary Clinton, Barack Obama, and John Edwards — currently support civil unions but not same-sex marriage.
Click HERE to go to the One News Now website, where you can listen to the report by clicking the "HEAR REPORT" button at the top right.
This article was posted on Tuesday, January 29th, 2008 at 4:21 pm and is filed under
"Civil Unions" & "Gay Marriage"
,
"Civil Unions" & "Gay Marriage"
,
A - What does the Bible say about homosexuality?
,
D - GLBTQ Pressure Within Churches
,
Government Promotion
,
News
,
The Bible, Churches, & Homosexuality
. You can follow any updates to this article through the
RSS 2.0
feed.