Bestiality,"scat," barebacking porn videos part of IML scene
"They invent ways of doing evil." (Book of Romans 1:30)
See article below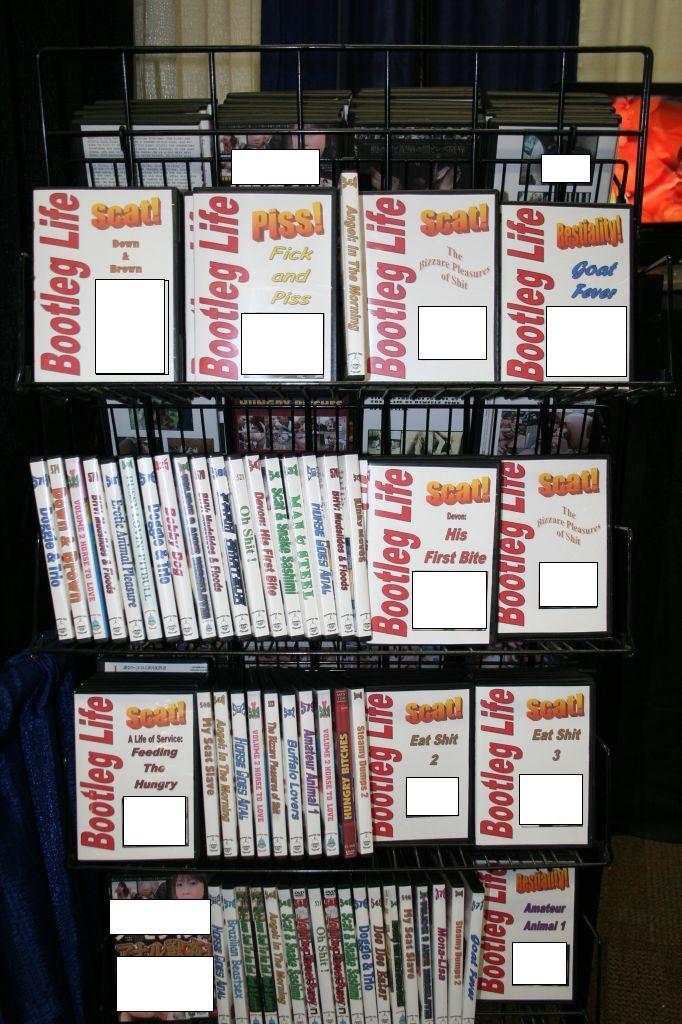 By Peter LaBarbera
The above is a photo of videos sold at one of the many pornographic booths at the International Mr. Leather 2008 convention, held in the Hyatt Regency Chicago Hotel (Patrick Donnelly, Gen. Man.: 312-565-1234) over the Memorial Day weekend. Click HERE to listen to an online CWA interview with this writer. (I walked through the IML "vendors market," open to the public, in a lower-level conference room at the Hyatt, where I shot this photo. )
Note that we've covered up the pornographic images. The bestiality titles (e.g., "Goat Fever," "Amateur Animal 1," speak for themselves. "Scat," according to one online (and sexually explicit) "Robert Scott's Gay Slang Dictionary," refers to "A gay male who gets sexual gratification from acts involving faeces." That is, excrement, which to us at Americans For Truth is proof that Satan is alive and well in this world.
Many IML "leathermen" may be successful businessmen or professionals by day, but in secret they glory in the sickest perversions imaginable, including (for some) "sex play" involving urine and feces. See this incredible photo of a group that advocates "piss parties," and which hawks its vile products every year at IML.
All those concerned about the spread of HIV will be horrified to learn that homosexual "barebacking" (condomless sodomy) porn videos were everywhere at IML 2008, more so, it seemed, than at last year's event at the Palmer House Hilton, also in Chicago. So much for all that homosexual "safer sex" education.
Pity the poor Hyatt Regency Chicago workers who had to clean up after the orgies and sex parties of the IML's (mostly) homosexual "leathermen," who attracted vendors selling such porn titles as the "Eat [Sh-t]" porn series (1, 2 and 3!; see photo above). Other videos playing at IML vendor booths in the Hyatt Regency gloried in homosexual fetishes involving urine, "fisting," domination, submission, humiliation, extreme pain and bondage. As CWA's Matt Barber and Martha Kleder discussed in the online CWA interview with this writer, what normal person would want to stay in a hotel room previously occupied by men engaging in such filthy sodomitic practices? (Call the Hyatt Regency's Chicago's General Manager, Patrick Donnelly, at 312-565-1234.)
International Mr. Leather is a spectacle that, like the annual, sadistic Folsom Street Fair in San Francisco, could only have emerged from the hyper-sexualized, God-defying "gay" male subculture.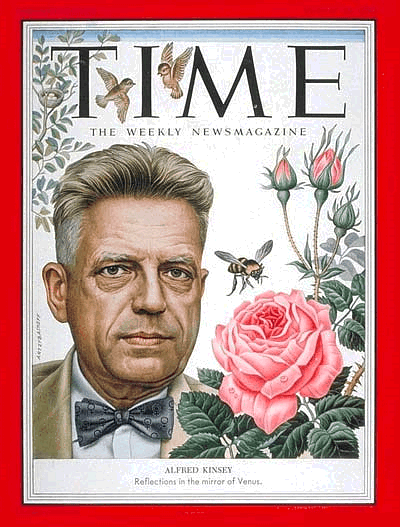 And lest we dismiss IML as the "fringe of the sexual fringe," we should remember: 1) that International Mr. Leather organizers claimed to "expect over 18,000 people from around the world to join in the celebration of IML" (Official Program Guide, p. 13); and 2) that America's groundbreaking "sexologist," Alfred Kinsey, was himself driven to punish himself masochistically, inserting foreign objects up his penis since his youth, according to his biographer, James H. Jones (Alfred C. Kinsey: A Life).
Of course, Kinsey's covert and reckless perversions were not known to the American public as he labored carefully, with the media's all too willing compliance (click HERE for Aug. 24, 1953 Time cover story), to achieve his vision of loosening the country's sexual mores in the name of science. Jones describes how Kinsey "punish[ed] himself with savage brutality":
"For a boy like Kinsey, a righteous boy whose sense of self-worth depended upon rigid self-control, nothing needed to be kept more hidden than the fact that he masturbated and that he did so with a foreign object inserted up his penis. Kinsey's secret hiding place was not a treasure trove but a torture chest that contained the instrument of his pain. By late adolescence, his masochism was well advanced. He had progressed beyond straws and was inserting a brush back up his penis, a practice he would continue for life, at times changing the instrument of self-torture, but never the point of attack."
So now we come full circle as the sadistic "International Mr. Leather" marks its 30th anniversary — with men celebrating with whips, anal "sex toys" and bondage gear a version of what was then the self-brutalizing Kinsey's secret shame. (Certainly had the public known about the real Kinsey, including his lifelong sadomasochistic perversions, and willingness to include alleged self-reporting pedophile "data" on infant "orgasms" (Table 34 in his 1948 book Sexual Behavior and the Human Male), it would have spoiled his culture-changing enterprise.) Tragically, for the idolatrous men at IML, shame seems to be in pathetically short supply.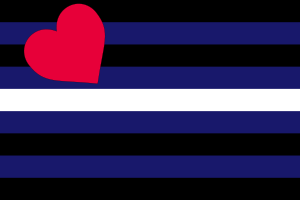 Perhaps to pay tribute to the man whose inner demons drove him to popularize deviant sexuality — paving the way for the "gay pride" revolution and, ultimately, outright perversion-fests like International Mr. Leather — Alfred Kinsey's image should replace the heart on that black-and-blue "Leather Pride" flag (at right).
AFTAH's photo-coverage of IML 2008 will continue. — Peter LaBarbera, Americans For Truth.
This article was posted on Friday, May 30th, 2008 at 9:15 pm and is filed under
Alfred Kinsey
,
BDSM
,
Bestiality
,
Biblical Truth
,
Chicago
,
Corporate Promotion
,
E - Praying for the Lost
,
Health & Science
,
Homosexual Meccas
,
Homosexual Pornography & Film Festivals
,
Homosexual Pride Parades & Festivals
,
Hotels & Casinos
,
Hyatt
,
Illinois
,
Leather
,
Mental Health
,
News
,
Physical Health
,
Public Indecency
,
Sexual Revolution
,
Sodomy
,
The Bible, Churches, & Homosexuality
. You can follow any updates to this article through the
RSS 2.0
feed.