By Peter LaBarbera
The graphic below is a question (one of 70) from the "National Survey on Transgender Experiences of Discrimination in the U.S.," sponsored by the National Center for Transgender Equality (NCTE) and the National Gay and Lesbian Task Force. Sort of makes you yearn for the good old days when people were either "male" or "female." Come to think of it, they still are. You would practically need a PhD., to keep up with the ever-expanding array of gender identities that fall under the "T" umbrella in the "GLBT" (gay, lesbian, bisexual, transgender) equation. Check out this mind-numbing Wikipedia entry attempting to define "Genderqueer."
Note that the choices offered below do not comprise a comprehensive list of identities associated with GLBT movement, leading to an expansion of that acronym to "GLBTQQ" (the "QQ" stands for "Queer" and "Questioning") and even longer combinations of letters. (Check out this Unitarian Universalists document, which on its front page also encourages sadomasochistic, prostitution and "non-monogamous" identities for young "queers." Pure evil.) Here is the NCTE survey question: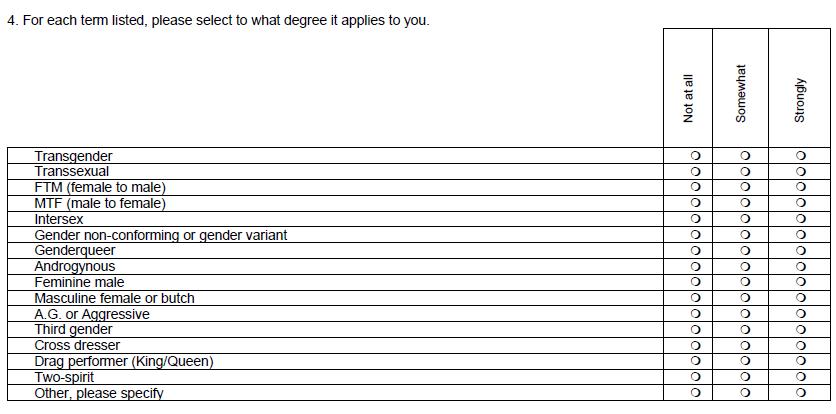 The report states, "The results of the survey will be part of an important report on discrimination against transgender people by the National Center for Transgender Equality and the National Gay and Lesbian Task Force to help create better opportunities for transgender and gender non-conforming people. We are grateful to Penn State University's Center for the Study of Higher Education for hosting the survey and maintaining the integrity of our data."
The survey will be used to support pro-"transgender" legislative goals, including "hate crimes" legislation and "working to include transgender provisions in a federal bill to protect lesbian, gay and bisexual workers from discrimination in employment." The latter refers to including "gender identity" provisions in the Employment Nondiscrimination Act (ENDA) bill, which would federalize "sexual orientation" law for businesses and organizations.
This article was posted on Thursday, February 19th, 2009 at 9:24 am and is filed under
01 - Gay
,
02 - Lesbian
,
03 - Bisexual
,
04 - Gender Confusion (Transgender)
,
05 - Two-Spirited
,
06 - Queer
,
07 - Questioning
,
Bathroom Controversies
,
BDSM
,
Born that Way?
,
ENDA
,
Gay Culture
,
GLBTQ Targeting Youth and Schools
,
GLBTQ Terms
,
Health & Science
,
Leather
,
Mental Health
,
NCTE
,
News
,
Nonmonogamy
,
Pansexual
,
Physical Health
,
Promoting Gender Confusion
,
Sexual Revolution
,
Task Force
,
The Agenda: GLBTQ & Activist Groups
,
Youth and School Related Organizations
. You can follow any updates to this article through the
RSS 2.0
feed.