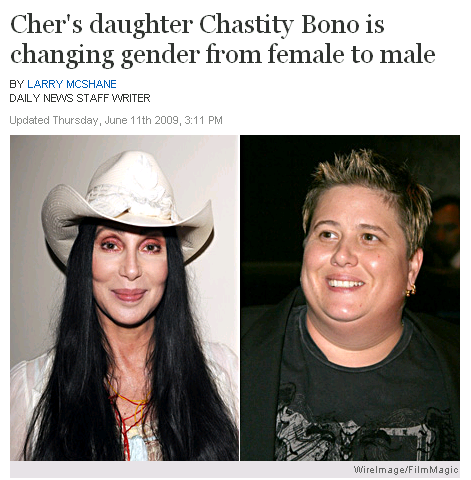 Report of Chastity Bono's "gender change" in the New York Daily News.
Folks, this news story is so sad. Chastity Bono is now and will always be female, as God made her, but we can expect the media to repeat the GLBT Lobby's praise of Bono for her "courage" as a celebrity "trailblazer," blah, blah, blah. We certainly echo Laurie Higgins' call to pray that Ms. Bono will never go through with a body-disfiguring "sex change" operation. Please pray for this woman. — Peter LaBarbera
___________________________
By Laurie Higgins, reprinted from Illinois Family Institute
Chastity Bono's publicist announced that Chastity is pursuing a "sex change." Chastity, as everyone knows, is the only daughter of Cher and the deceased Sonny Bono. Many years ago, Chastity made the decision to embrace homosexuality, and as of March, she has begun the process of "changing sexes."
Of course, rational people realize that changing one's name, cross-dressing, ingesting hormones naturally produced by the opposite sex, and electively amputating healthy parts of one's sexual anatomy don't really change one's biological sex. The emperor was really wearing no clothes, and Chastity, who has assumed the moniker "Chaz," will always really be a woman.
It's utterly confounding that society en masse believes or pretends to believe that "transgenderism" reflects a real phenomenon of people actually trapped in the wrong body rather than a profound disruption in the development of a secure and proper sexual identity. Doctors who perform such surgeries are engaging in medical malpractice and violating the increasingly meaningless and antiquated Hippocratic Oath.
Read the rest of this article »