WARNING: Offensive Images Inappropriate for Children
By Peter LaBarbera, AFTAH Exclusive
The following are some photos taken at Philadelphia's homosexual ("Gay") Pride Parade and "PrideDay" festival Sunday, June 10, 2012, by this reporter for Americans For Truth About Homosexuality (AFTAH). The Philly parade and the festival at Penn's Landing that followed it were small compared to much larger homosexual "pride" parades and festivals in cities like Chicago and San Francisco — but both events were attended by many young children. I witnessed dozens of children from the very young to teenagers marching in the parade and there were also many observing it from the side streets.
Perhaps even some of AFTAH's homosexual critics would admit that the scenes depicted below are not appropriate for children. Yet more than ever, in major cities across the country, children are a common sight at "gay pride" parades and festivals — as "proud" homosexual parents bring their children to these libidinous celebrations of sexual sin and gender confusion. [Permission is granted to use any photo provided that credit is given to "Americans For Truth About Homosexuality; www.americansfortruth.org." Direct questions to: americansfortruth@gmail.com.]
We have blocked the eyes of all the young children shown in our photos; click on photos to view in enlarged format:
Would you even consider taking YOUR children to a parade where behavior like this occurs — and worse, letting them march in it? These go-go boys were grinding against each other on the top of a float:
I don't know the significance of the wings, but near-naked, gyrating go-go boys are a fixture at most big-city homosexual "pride" "parades: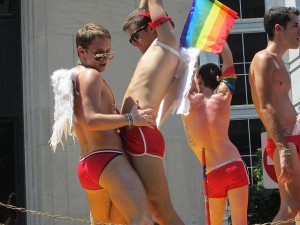 This trolley car containing young children was sponsored by Children's Hospital of Philadelphia (the banner reads, "Office of Diversity and Inclusion"). One wonders why Children's Hospital officials and the adults riding in this trolley car would sanction children participating in a parade and festival loaded with sexual excess, and which promoted homosexual pornography, gender confusion and perverse events like a "Fetish Ball":
This large banner cartoon drawing of a naked man wearing a condom was visible from afar at the Penn's Landing 'Pride" festival. The booth where it was situated was in one of the best locations at the PrideDay festival — with the Delaware River as its backdrop. There was NO warning at this booth that it was off-limits to children, but even if there had been, young children would still see this inappropriate display:
It is no surprise that homosexual-led families — who regularly and by definition expose innocent children to aberrant and sinful lifestyles — would be more willing than typical parents to expose kids to the sexual excesses surrounding the LBGT movement:
Here is another booth at the Penn's Landing festival that was X-rated and hardly appropriate to be in the vicinity of children. TLA sells raunchy homosexual porn videos:
This woman's tee-shirt aptly sums up the perversion of lesbianism.  But again, children should not be confronted with such raunchy messages; and how exactly would parents explain this message to young children?
The Home Depot was among several major corporations sponsoring "Philly Pride"– although the company did not have a visible presence in the pride parade itself. Other corporations with booths at the homosexual pride festival included: Aetna; Costco; State Farm; New York Life; 5-Hour Energy; Walgreen's; Harrah's Chester Casino & Racetrack; Miller Beer; and Wells Fargo:
The Barack Obama campaign had a strong presence at both the "Philly Pride" parade and the PrideDay festival. The campaign of presumptive Republican nominee Mitt Romney did not participate:
I saw no full nudity at "Philly Pride," unlike several other "gay pride" parades I have witnessed over the years. But this man riding atop a truck for Safeguards, a Philadelphia-based "LGBT [Lesbian, Gay, Bisexual, Transgender] Health Resource Center," was wearing only a loincloth. Just as they have redefined other historic conventions, religious systems and institutions to accommodate their "gay" ideology, homosexual activists and "LGBT parents" are creating their own reality for what supposedly constitutes a "child-friendly" atmosphere. Tragically, it is neither healthy nor wholesome for the innocent kids who have no choice but to attend these debased events with their parents.
The "Religious Left" — which fully embraces sexual perversion and gender confusion as a "civil right" — was well represented at "Philly Pride." Thankfully, contrary to the unbiblical message of the placard below ("Gay by God"), many men and women have become EX-'gay', through the grace, love and mercy of Jesus Christ. More photos will follow in a future posting on "Philly Pride."
This article was posted on Thursday, June 21st, 2012 at 10:36 pm and is filed under
"Civil Unions" & "Gay Marriage"
,
"Civil Unions" & "Gay Marriage"
,
Adoption & Foster Parenting
,
Aetna
,
Corrupting Children
,
Diversity & Tolerance Propaganda
,
Extremism
,
Gay Culture
,
Gender 'Fluidity' (Confusion)
,
GLBTQ Targeting Youth and Schools
,
Harrah's
,
Health & Science
,
HIV/AIDS
,
Homosexual Parenting
,
Homosexual Pornography & Film Festivals
,
Homosexual Pride Parades & Festivals
,
Homosexual Public Displays
,
Hotels & Casinos
,
Insurance
,
New York Life
,
News
,
Public Indecency
,
State Farm
,
Walgreens
. You can follow any updates to this article through the
RSS 2.0
feed.