Social media giant cites "safety" concerns and being "respectful," but by not respecting and tolerating Christian conservatives' views, is Facebook guilty of 'hate' and bigotry?
________________________
AFTAH in the News:
Read about it on LifeSiteNews: [click HERE]
Read about it on WND: [click HERE]

Fight Leftist Censorship; donate securely to AFTAH online: [Click HERE], or mail a gift to: AFTAH, PO Box 5522, Naperville, IL 60567-5522
Folks, leftist social media censorship is accelerating, because "power tends to corrupt, and absolute power corrupts absolutely" (Lord Acton). On Sunday, [Nov. 18, 2018,] Facebook took down–"unpublished"–AFTAH's (Americans for Truth About Homosexuality) Facebook page, saying we violated their "hate" standard. We are appealing the decision but unlike Twitter, Facebook does not even let the groups they banish make a case for why the ban is wrong and should be reversed. This ban is beyond Orwellian: Facebook provides no specific examples of *how* our AFTAH posts violated their alleged "hate" standard, but you can see what sort of posts "triggered" these progressive-techie snowflakes HERE, or below.
I tweeted this:
From Twitter: [Sunday] the cowardly yet proficient anti-conservatives at Facebook took down ("unpublished") our AFTAH (Americans For Truth) FB page, citing violations of their spurious "hate" standards. We are appealing. Look for a piece on this in WND…
Of course, the "hate" charge is spurious and ultimately effectively precludes all MORAL opponents of homosexuality from using Facebook. AFTAH, a Christian educational organization, has from its inception condemned real hatred and violence against homosexuals (or anyone). We have long denounced groups like Westboro Baptist Church with its preposterous "God Hates Fags" message. Please help us spread the word on this cowardly social media censorship of ideas that run counter to "progressive" sacred cows. Thanks. — Peter LaBarbera, Americans For Truth; Twitter: @PeterLaBarbera
______________
Here is an example of an Americans For Truth post that Facebook deemed "hateful"; see full story HERE: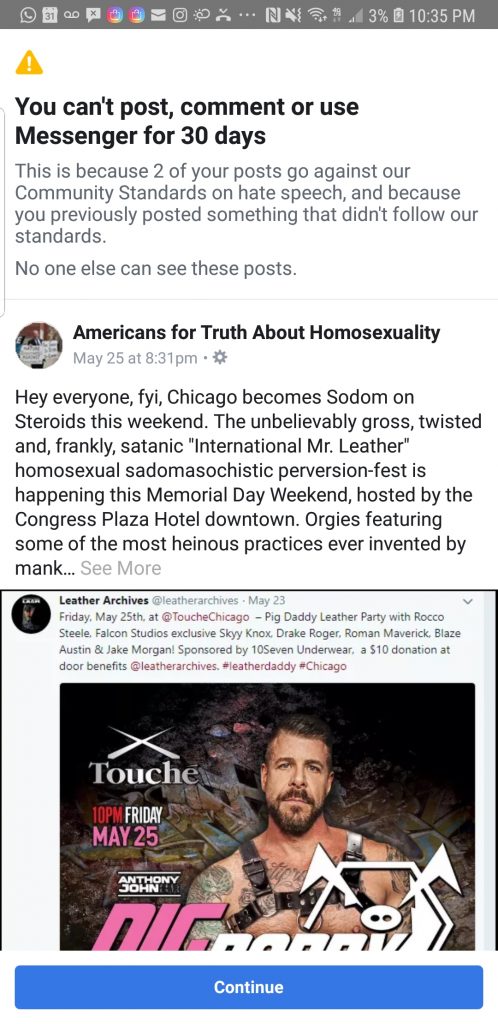 This article was posted on Tuesday, November 20th, 2018 at 10:27 am and is filed under
(Pro-) Gay Thought Police
,
A - What does the Bible say about homosexuality?
,
Biblical Truth
,
Christian Persecution
,
Freedom Under Fire
,
News
,
Political Correctness vs. Truth
,
Politics of "Hate"
,
Redefining Hate
,
Redefining Morality
,
The Bible, Churches, & Homosexuality
. You can follow any updates to this article through the
RSS 2.0
feed.