AFTAH honoree Scott Lively responds to Gay Liberation Network lie that he supports violence against Ugandan homosexuals
"It is the central (but patently false) narrative of the left that all criticism of homosexuality leads inevitably to violence and murder." – Scott Lively, recipient of AFTAH's 2011 "American Truth Teller" Award; from his essay, "Murdering Uganda"

"Blessed are you when people insult you and persecute you, and falsely say all kinds of evil against you because of Me."—Jesus Christ, in Matthew 5:11 (NASB)
_______________________________________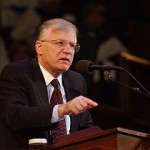 Come out and support Scott, Dr. Lutzer and AFTAH! Please join us this Saturday, Oct. 15th at the AFTAH banquet with Dr. Lutzer (doors open at 6:00 PM at Christian Liberty Academy, 502 W. Euclid Ave., Arlington Heights, IL; tickets $10; $20 at the door). Dr. Lutzer will address the escalating persecution against Christians under pro-homosexuality laws. (Dr. Lively also will give a brief speech as we present him with the 2011 AFTAH "American Truth Teller" award.)
Friday speech by Lively: There is a second opportunity to hear Scott Lively, who will give a speech Friday, Oct. 14 at 7:00 PM at Grace Gospel Fellowship church in Bensenville, IL, (located on Route 83 just north of I-290)  The event is FREE but there will be a freewill offering taken for Americans For Truth – to help us combat homosexual extremism as typified by GLN.  This event will include time for Q & A with Scott.  Thank you for standing with us!
________________________________________
By Peter LaBarbera
Dear AFTAH Readers,
A Chicago Marxist group, Gay Liberation Network, is pressuring Moody Church Pastor Dr. Erwin Lutzer to pull out as keynote speaker at the Americans For Truth banquet this Saturday because AFTAH is honoring Scott Lively, who GLN falsely claims has a "history as a vicious gay basher." At the October 15 event, AFTAH will present Lively with its 2011 "American Truth Teller" award for his years of defending truth on the homosexual issue.Scott Lively has been the target of a malicious homosexual campaign of lies claiming he supports violence against homosexuals."]
Lively sent me (and Dr. Lutzer) the following two letters in response to GLN leader Bob Schwartz's outlandish claims. A verbatim copy of the contents of the GLN letter, sent to Lutzer by certified mail September 27, 2011, follows Scott's letters below.
In his letter to Lutzer, GLN's Bob Schwartz writes:
"Are you aware of Lively's history as a vicious gay basher?…In addition, as you may know, LaBarbera's organization [AFTAH] and Lively's Abiding Truth Ministries are both described as 'hate groups' by the Southern Poverty Law Center. Are these the kinds of organizations with which you wish to associate the Moody Church? …[W]e take you at your word when you say you oppose violence against gays. We therefore assume that you would not want to be associated with those, like Lively and LaBarbera, who either support violence outright, or honor those who do."
This is a monstrous lie. From the beginning of my involvement in the homosexuality debate, I – like Scott – have repeatedly and consistently condemned all violence and genuine hatred directed at homosexuals. So when Schwartz and the GLN urged Pastor Lutzer not to "[associate] with those, like Lively and LaBarbera, who either support violence outright, or honor those who do" – they slandered me as well as Scott.
Read the rest of this article »