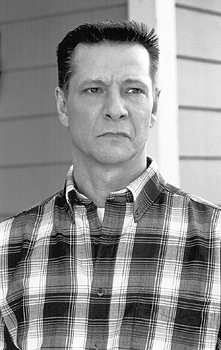 Hollywood Against the "Homophobes": The 1999 film American Beauty is a good study in Hollywood's unsubtle promotion of "gay" activist myths. Chris Cooper plays the creepy Col. Frank Fitts, an ex-Marine and "homophobic," overbearing father who, in a final, dramatic scene, unleashes his repressed homosexuality by attempting to kiss Lester Burnham, the lead character played by Kevin Spacey. The anti-Christian homosexual media group GLAAD has been so successful in pushing such blatant "gay"-affirming messages in film and on TV that one homosexual activist asks: "Do we really need GLAAD as an institution any more?"
You know, it's pretty hard to play the victim when propagandistic "gay" images and characters saturate the airwaves. But leave it to GLAAD (the Gay and Lesbian Alliance Against Defamation) to try. I wonder though: what about Hollywood and EX-"gays"? (GLAAD fails to see the hypocrisy of its ongoing "defamation" of them.) It took decades after Roe v. Wade for Hollywood to produce movies like Juno that are unapologetically pro-life. How long will it take for the entertainment industry to catch up with reality and cast a sympathetic former homosexual character who is content with his sexuality? — Peter LaBarbera
P.S. A reminder to Mr. Link: five percent exceeds the homosexual population in society.
——————————–
David Link writes for the Independent Gay Forum:

We're Here, We're Queer, We Were on Primetime Network TV 647 Hours Last Year (Not Counting Cable)
Posted on IGF: July 26, 2009
I'm really wondering whether we need GLAAD anymore.  They've just released their Network Responsibility Index for 2008-09 to "serve as a road map toward increasing fair, accurate and inclusive LGBT media representations."  ABC led the pack among networks; of its 1,146.5 total hours of primetime programming, 269.5 hours (24%) included LGBT impressions.  The CW came in second with 138 LGBT-inclusive hours, or 20% of its primetime offerings.  CBS gave us the back of their hand, devoting only 60 hours — 5% of its schedule — to us.  For shame.
Read the rest of this article »