"Anti-bullying" bill now moves on to Mass. House – text is still troubling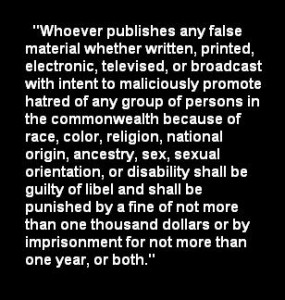 Congratulations to the vigilant pro-family activists over at MassResistance for stopping this proposed "hate speech" provision in an "anti-bullying" bill (see the proposed text in box at right). It is victories like this that made it easy for me to praise this gutsy organization and its founder, Brian Camenker (and MR blogger Amy Contrada) as a speaker at their recent fund-raising banquet.
For years — no, decades — homosexual activists have been telling us that their agenda (oops, I forgot…there is no "gay agenda") does not pose a threat to freedom. Then we watched in Canada as religious critics of homosexuality were forced to defend themselves against "discrimination" suits brought through Orwellian government "human rights" tribunals — simply for expressing their beliefs against homosexuality. To label these state-sanctioned spectacles  "nuisance suits" would be to trivialize the great harm they have done to their innocent victims. Meanwhile, in Britain and Sweden, Christians also faced government oppression for opposing homosexuality. Other countries stand poised to criminalize "homophobia."
The silence among American homosexual activists against this escalating PRO-"gay" oppression has been deafening. After all, justifying state censorship of your critics isn't easy when you're playing the victim card.
And now we see the first, rudimentary attempts at legislating a "hate speech" regime here in the United States. Consider the removed paragraph above in light of the common homosexualist accusation that groups like Mass Resistance and Americans For Truth "hate gays." Self-described "queer" militants routinely equate traditional religious tenets or moral beliefs with hatred (all the while demonstrating consistent "malice" of their own with abundant lies and nasty smears against pro-family opponents).
Read the rest of this article »