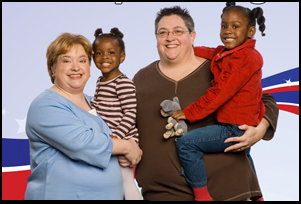 This lesbian couple traveling with Soulforce — the "Rasmus-Ford family" — says, "God created us [as lesbians] exactly as we are with purpose and intention." Should mega-churches like Willow Creek have agreed to meet with a homosexual activist group whose goal is to "cut off homophobia at its source – religious bigotry"? Sonja Dalton (below) says NO and Michael Brown says YES (under certain conditions).
This is a Point/Counterpoint on the question of whether Willow Creek Community Church (in South Barrington, Illinois) and other mega-churches should have met with the pro-homosexual activist group Soulforce, which aims to "cut off homophobia at its source – religious bigotry." Below is a commentary by my good friend Sonja Dalton, who argues AGAINST such meetings. Click HERE to read an opposing column by Dr. Michael Brown, who says they can be used — with proper discernment — for Christian outreach.
We will allow each writer to respond to the other's arguments, and welcome input from our readers, too; write us at [email protected]. (Sorry, but we're not interested in publishing pro-homosexuality pieces — there are plenty of "gay" websites for that.) Footnotes are at bottom:
_______________________________
Willow Creek Church Should Not Have Met with Soulforce
Point/Counterpoint [to read Michael Brown's opposing column, click HERE]

By Sonja Dalton
A fundamental question has been lost amid the sensation over the recent meeting between Willow Creek leadership and pro-homosexuality activists affiliated with the group Soulforce:
Did Pastor Bill Hybels have Biblical authority to welcome, meet with, and dine with Jay Bakker and Soulforce?
First, let's examine who these Willow Creek "guests" [1] were…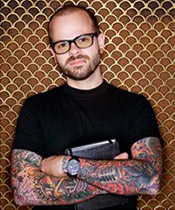 Jay Bakker (right) is the cigarette-puffing, tattooed, punk-rocker son of Jim and Tammy Faye Bakker; he's the star of the Sundance Channel series "One Punk Under God" and "pastor" of the "gay"-affirming Revolution NYC [2]. He is quoted as having said:
"…I felt like God spoke to my heart and said '[homosexuality] is not a sin.'" [3]
(You might want to pencil that into your Bible, somewhere near Leviticus 18:22 or I Corinthians 6:9-11. Or not.)
Read the rest of this article »