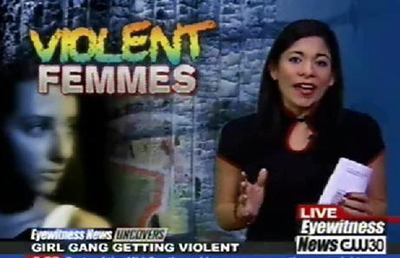 The homosexual cultural bullies at GLAAD did not succeed in stopping the airing of the above Memphis TV report on vicious high school lesbian gangs, but they sure tried. WorldNetDaily.com features AFTAH in a story on the media's non-interest in the 'raping girl gangs' story.
TAKE ACTION:  Read WorldNetDaily's story (featuring Americans For Truth) about media bias and the lesbian gang story, and help counter the "gay" pressure groups that are turning America's newsrooms into homosexuality-promotion centers:
Thank Memphis ABC-TV newsman Jack Peck (901) 321-7623; e-mail: jpeck@abc24.com) for not succumbing to GLAAD's (Gay & Lesbian Alliance Against Defamation) blatant attempts to block the airing of a news segment on lesbian school gangs that rape girls; urge him to follow up on this important story;
Thank Bill O'Reilly (oreilly@foxnews.com) for finally giving this story national attention; urge FOX News(yourcomments@foxnews.com) to follow up on it; yesterday, O'Reilly had a GLAAD spokesman on his program who critiqued FOX's reporting on the lesbian gang story; ask Bill to consider having a guest on to critique GLAAD's bigoted intimidation tactics (including smearing pro-family groups like Americans For Truth as "hate groups");  
Politely urge FOX News (and other media and corporations) to stop subsidizing the activist homosexual journalists group NLGJA: National Lesbian & Gay Journalists Association. The NLGJA's president, Eric Hegedus, compares including pro-family group representatives in news stories about homosexuality to quoting "white supremacists and other hate groups" in stories about race.
Today's WorldNetDaily — "Payback for Expose on 'Dyke' Gang Rapes" — features Americans For Truth commenting on the homosexual lobby's often successful attempts to bully the 'mainstream' media into reporting just one side of the debate on homosexuality in our culture.
It didn't work in Memphis, but not because the powerful homosexual media group GLAAD (Gay & Lesbian Alliance Against Defamation) did not try. GLAAD "Call to Action" on the Memphis story, reprinted below, could serve as a "Gay Media Bullying 101" lesson on homosexual media pressure tactics.
If all else fails, threaten to sue 
AFTAH has learned from Jack Peck (phone: 901-321-7623; e-mail: jpeck@abc24.com), General Manager of Memphis Eyewitness News ABC24, that a senior GLAAD staffer repeatedly threatened to sue the station if it aired the lesbian gangs report. Peck said the station made minor changes to the story but refused to bow to GLAAD's threats because "we still thought we had a good story here."
What is so stunning about this Orwellian GLAAD alert is its utter callousness — there is no concern shown for the victims of the lesbian gangs, only a desire to protect the image of homosexuals in America. As I told WorldNetDaily, "Here you have girls being raped by other girls, and somehow GLAAD manages to turn the homosexual lobby into the victims." As usual with "gay" activists, it's all about them.
Imagine the nationwide coverage and media-driven outrage — appropriate as that would be —  if this story were about roving bands of heterosexual boys raping lesbians in school washrooms in an attempt to force them to be "straight."
Get the picture? Political correctness and hypocritical media silence actually encourage bad behavior because there is little accountability for organized lawbreakers. Now take some action to confront the media about its gaping double-standard on homosexuality.– Peter LaBarbera
Bolded emphasis below is ours:
GLAAD (Gay & Lesbian Alliance Against Defamation) "Call to Action"

 

Memphis, Tenn., ABC and CW Affiliates Perpetuate Dangerous, Inaccurate Stereotypes In Report On "Lesbian Gangs"

 

March 02, 2007

 

Contact: Rashad Robinson, Senior Director of Media Programs
Email: robinson@glaad.org

 

New York, Friday, March 02, 2007 – On February 28, local ABC24 and CW30 affiliates in Memphis, Tenn., perpetuated dangerous, inaccurate stereotypes in their evening news report on "lesbian gangs."

 

GLAAD was first alerted to the story when Initiative Fairness of the Memphis Gay and Lesbian Community Center, The Tennessee Equality Project and Memphis community members called to complain about a problematic promotional ad.

 

The teaser, aired during February "sweeps" month, foreshadowed the familiar defamatory script in which a local news reporter relies on tabloid-style journalism and anecdotal claims. This type of reporting creates a climate of homophobia and fear, perpetuating dangerous, inaccurate stereotypes of gay people and feeding a climate of anti-gay discrimination and violence.

 

GLAAD immediately contacted ABC24 and CW30 station management. After we voiced serious concerns about the teaser and offered resources to the general manager and assistant news director, they agreed to show GLAAD the segment before it aired.

 

The report we saw was shockingly defamatory. The story dramatized "Gays Taking Over," a group of African American women preying on other women. The principal interview subject, a so-called "gang expert" employed by the local sheriff's office, suggested that the sexual harassment and violence the gang allegedly perpetuated would make its victims gay. The report offered no evidence to support these assertions, and the station's general manager admitted to GLAAD that the station had not independently verified its interview subjects' claims.

 

GLAAD raised serious objections, calling for the station to pull the report from that evening's news program. The general manager, assistant news director and reporter stood behind their story and removed only some of its offensive elements. The station cut repeated references to Gays Taking Over as a "lesbian gang" and removed the depiction of the report's only white woman as a potential target by the gang. In addition, the anchor and reporter told viewers the story was not intended to disparage lesbians and acknowledged that gay community members had expressed concerns about the piece. The two also disclosed that the station did not have documentary evidence (such as arrest records) to substantiate the story's claims.

 

Despite these changes, however, the February 28 report retained its sensationalistic, fear-mongering tone and the homophobic commentary of its primary interview subject.

 

Please contact the reporter, assistant news director and general manager at ABC24 and CW30 to acknowledge the station's decision to remove some of the story's offensive elements and to condemn its insistence on promoting and airing a report that, without factual substantiation, perpetuates dangerous, inaccurate stereotypes about the lesbian community. Also urge them to improve their coverage through fair, accurate and inclusive representation of the lesbian, gay, bisexual and transgender community.

 

Contact:Eyewitness News ABC24 and CW30
Rebecca Medina, Reporter
(901) 321-7606

 

Bridget Lovelle, Assistant News Director
(901) 321-7535
blovelle@abc24.com or blovelle@myeyewitnessnews.com

 

Jack Peck, General Manager
(901) 321-7623 [Peck's email is jpeck@abc24.com]

 

About GLAAD: The Gay & Lesbian Alliance Against Defamation (GLAAD) is dedicated to promoting and ensuring fair, accurate and inclusive representation of people and events in the media as a means of eliminating homophobia and discrimination based on gender identity and sexual orientation. For more information, please visit http://www.glaad.org/.

 

###
This article was posted on Tuesday, July 10th, 2007 at 1:35 pm and is filed under
Bullying & Victimhood
,
Diversity & Tolerance Propaganda
,
FOX News
,
GLAAD
,
GLBTQ Targeting Youth and Schools
,
Homosexual Hate
,
Homosexual Rape
,
Media Promotion
,
Mental Health
,
National GLBTQ Activist Groups
,
News
,
Pro-Homosexual Media
,
The Agenda: GLBTQ & Activist Groups
. You can follow any updates to this article through the
RSS 2.0
feed.