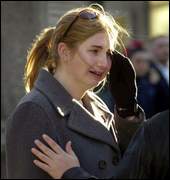 This photo of ACLU activist (or should we say actress?) Sarah Loy crying at the rally where she falsely accused pro-family advocate Larry Cirignano of violently assaulting her, appeared in the December 17, 2007, Worcester Telegram and Gazette's initial report of the incident. Telegram Reporter Richard Nangle ([email protected]) wrote that Cirignano "pushed [Loy] to the ground, her head slamming against the concrete sidewalk." But a jury rejected this story, which echoed Loy's account. (The jury found that Loy tripped rather than being pushed.) Nangle, testifying in court, could not find himself among enlarged photos of people at the center of the rally crowd — casting into doubt whether he could have seen what actually transpired.  Nevertheless, a defiant Nangle says he "stands by everything" that he originally reported. Telegram photo is by Paul Kapteyn. 
By Peter LaBarbera
This is a fascinating case involving media bias: a reporter whose story was proven false — or at least not credible — in a court of law is "stand[ing] by everything " he originally wrote.
On December 16, 2006, the Worcester Telegram and Gazette published a story under reporter Richard Nangle's byline, regarding a pro-marriage rally in Worcester protested by Sarah Loy and the local ACLU. Nangle, an ACLU Board Member, reported that Catholic family advocate Larry Cirignano had "pushed [Loy] to the ground, her head slamming against the concrete sidewalk."
Nangle's vivid depiction of the alleged attack echoed Loy's own charges of assault and battery against Cirignano, and helped created an impression in the public's mind that she was a victim of violence (and that he was violent man who attacks women). A photo accompanying Nangle's story (see above) showed Loy in tears at the rally scene. However, on October 22, a jury found Larry Cirignano innocent of assault and battery against Loy, a week after presiding Judge David Despotopulos had thrown out Loy's "civil rights" complaint against him. See our story relaying MassRessistance's account of the case and trial.
Here are the first three paragraphs in Nangle's story, under the headline (which he did not necessarily write), "Worcester Rally Takes Ugly Turn; Gay Marriage Backer Pushed," with emphasis added:
WORCESTER- Tempers boiled over at an anti-gay marriage rally yesterday when the executive director of the Boston-based Catholic Citizenship emerged from behind a lectern outside City Hall, rushed toward a female counter-demonstrator, and pushed her to the ground.

 

Sarah Loy, 27, of Worcester was holding a sign in defense of same-sex marriage amid a sea of green "Let the People Vote" signs when Larry Cirignano of Canton, who heads the Catholic Citizenship group, ran into the crowd, grabbed her by both shoulders and told her, "You need to get out. You need to get out of here right now." Mr. Cirignano then pushed her to the ground, her head slamming against the concrete sidewalk.

 

"It was definitely assault and battery," said Ronal C. Madnick, director of the Worcester County Chapter of the American Civil Liberties Union of Massachusetts. Police interviewed Mr. Madnick and several others moments after the incident.
Read the rest of this article »