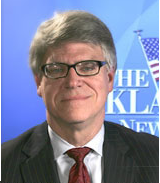 Ed Kelley, Daily Oklahoman Editor
More arrogance from the liberal media below — in this case, on online voiced editorial by Daily Oklahoman Editor Ed Kelley. Of course, Kelley is free to leave journalism and become a political activist — which does not seem like much of a transition after reading this. Perhaps he could even run for office on the "real issues" he talks about below. That would take a lot of work, especially if he's as out of touch with Oklahoma's voters as it appears.
Nope, it's much easier for Kelley to whine about the people whom his newspaper is supposed to serve and respect. On the day that the "Rally for Sally" drew 1,500 or more people to the capital — to defend a decent, Christian woman who was the target of a national homosexual campaign — Kelley's paper ran a condescending (and inaccurate) editorial that ended, "Perhaps constituents ought to hold a rally of their own, urging this one-trick pony to put her tiresome personal agenda aside and work to do something constructive."
We think it would be very "constructive" for Kelley and fellow Fourth-Estaters to embark on a serious study of the Sally Kern "controversy" and their own reporting practices — so they could learn how they got the story so wrong. I'll give them lesson number one: don't take your editorial cues from left-wing activists — especially if you're in a red state. That's a good way to lose subscribers. — Peter LaBarbera
_________________________
Transcript of Ed Kelley' Online Editorial
[You can listen to the voiced editorial by clicking HERE]
April 4, 2008
Hi, I'm Ed Kelley, editor of the [Daily] Oklahoman.
So, more than a thousand people showed up at the State Capitol for the so-called "Sally Rally," to support Representative Sally Kern and her rantings against gays in America. By all accounts, it was a boisterous bunch that lined up way outside the Capitol so they could come in and praise old Sally.
But what if? What if instead of a thousand people gathered to praise her, a thousand people, smart law-abiding people who really cared about Oklahoma and it's future, came instead to insist that our State can and must send legislators to the Capitol, who will focus on real issues that affect Oklahoma?
In other words, a thousand voices that said, "We've had a hundred years of people like Sally Kern and a hundred years of that is enough."
What if, a thousand people came to the Capitol and proclaimed Kern's running mate, Representative Randy Terrill, to be the biggest political liability on our state early in the Twenty-First Century for his ramming the toughest anti-immigration law in the country down the throats of his fellow Oklahomans?
In other words, a thousand voices that said they were going to stand up to this man, for moral reasons if nothing else, even when the leadership in the Capitol is too cowardly to do so.
What if, a thousand people came to the Capitol and expressed outrage over the precious time wasted in the legislative session on bills that don't make a hill of beans, like English as the official language, or designating a state rock 'n roll song, or creating some more car tags as if we don't have a jillion of them already.
In other words, a thousand voices that said Oklahoma's future as a state of importance and creativity is in jeopardy unless our elected representatives take on an air of urgency before it's too late.
What if all these scenarios happened? They could. They could happen. And if they did, how different our image would be. Not just to the world outside our borders, but to the thousands of young Oklahomans growing up in our state — who deserve a serious discussion of a better Oklahoma than what they're getting now at 23rd and Lincoln.
This article was posted on Monday, April 7th, 2008 at 2:11 pm and is filed under
Christian Persecution
,
Homosexual Hate
,
Media Promotion
,
News
,
Oklahoma
,
Politicians & Public Officials
,
Pro-Homosexual Media
,
Sally Kern
,
The Bible, Churches, & Homosexuality
. You can follow any updates to this article through the
RSS 2.0
feed.