Homosexual attacks boomeranged; "gay" incumbent statewide candidate Jim Roth loses despite heavily outspending pro-family opponent backed by Kern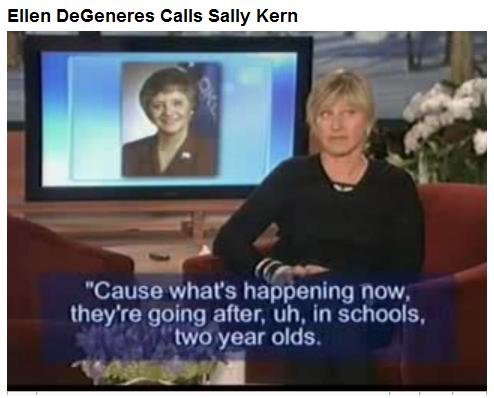 How many state representatives draw the attention of national TV talk show hosts? At left, Ellen DeGeneres rolls her eyes as she plays the (selectively edited) audiotape of Oklahoma state representative Sally Kern (R; pictured on the screen next to Ellen). Apparently Ellen is not aware that pro-"gay" educators have targeted very young students — even toddlers — with inappropriate, homosexuality-affirming messages. Despite the withering and often nasty "gay" web campaign against her, Kern easily won re-election in her district. Moreover, Kern helped another Republican candidate, Dana Murphy, oust Democrat Jim Roth, an incumbent and an open homosexual activist, for the statewide office of Corporation Commission. Murphy was vastly outspent by Roth, who was endorsed by the Gay and Lesbian Victory Fund — which launched the smear campaign against Kern. Click on graphic to enlarge.
_________________________________
By Peter LaBarbera
Oklahoma State Rep. Sally Kern (R) won re-election in a landslide, 58-42 percent, last week – overcoming a national smear campaign against her by homosexual militants and celebrities like Ellen DeGeneres who tried to paint her as an extremist – based on a secretly recorded speech in which she labeled "gay" activism a grave threat to America.
In another triumph over homosexual activism in red state Oklahoma, Kern's close ally, Republican Dana Murphy, defeated open homosexual Jim Roth (D) for Corporate Commission – an important statewide office. Roth, the incumbent, heavily outspent Murphy, and was endorsed by the Gay and Lesbian Victory Fund (GLVF) – which launched the demonization campaign against Kern and which encouraged out-of-state "gay" campaign donations to Roth.
In this heavily-watched race, GLVF hoped that Roth – already the first admitted homosexual to hold statewide office — would become the first such candidate to be elected statewide in Oklahoma. Instead, GLVF itself became a campaign issue that helped bring Roth down.
Kern – who gained much sympathy in Oklahoma because her Christian demeanor did not match the vicious caricature of her by "gay" propagandists — was honorary chairman of Mothers Organized for a Moral Society (MOMS), a 527 group created to help Murphy. Oklahoma conservatives made an issue of Roth's pro-homosexual activism and outside "gay" financial support.
"My race and Dana Murphy's race show that Oklahoma is one of the most conservative states the nation – and we still believe strongly in the Judeo-Christian ethic," Rep. Kern told Americans For Truth. "We will take a stand up for what we believe in – in spite of the attacks by liberal elites and the attempt by pro-homosexual special interest groups to use out-of-state money to influence the vote in our state."
Kern told AFTAH that ironically, the massive web-fueled homosexual activist campaign targeting her actually elevated the homosexual agenda as an election issue in Oklahoma. MOMS sent out a mailer informing voters statewide of Roth's endorsement by the Gay and Lesbian Victory Fund, and that out-of-state homosexual donors were helping to finance the incumbent Democrat's campaign.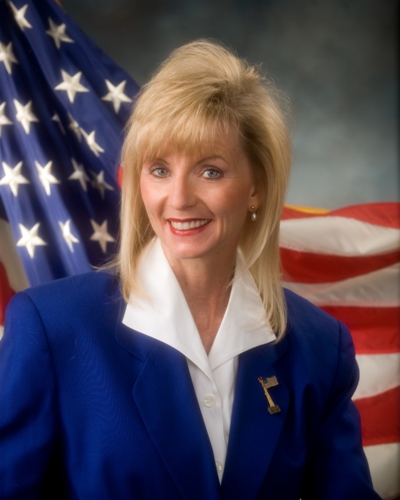 Dana Murphy ousted heavily favored "gay" activist incumbent Democrat Jim Roth for Corporation Commission.
Roth received the major establishment endorsements in Oklahoma and outspent Murphy by at least two to one, according to Kern. But he lost 52-48, garnering 674,695 votes to Murphy's 738,397.
As for her own victory, Kern's margin was down from four years ago, but she told AFTAH that this was due in part to a physical ailment that greatly hindered her ability to campaign. Kern did not go door-to-door and said she did not campaign nearly as energetically as she normally would.
It is hard to overstate the animosity and vitriol that Kern faced after the Gay and Lesbian Victory Fund posted online selectively edited portions of a speech she gave to a conservative group in Oklahoma. Lesbian talk show host Ellen DeGeneres even phoned Kern on air in a stunt to paint her as extreme. Kern never backed down despite receiving tens of thousands of hostile e-mails from pro-homosexual activists and some very ugly attacks against her family (including her husband Steve, who pastors a church in Oklahoma City). St. Rep. Kern benefited from a huge "Rally for Sally" at the state capitol that dwarfed a previous, small homosexual event against her in the same building.
Kern's opponent, Ron Marlett, attempted to exploit the national homosexual vilification campaign against her by accusing Kern of being "obsessed" with the homosexual issue. It didn't work.
Watching Kern face the withering assault from "gay" critics and the media with the grace and humility of a seasoned Christian led some supporters to begin talking up Kern as a future gubernatorial candidate for the GOP.
This article was posted on Thursday, November 13th, 2008 at 2:37 pm and is filed under
Bible
,
Christian
,
Homosexual Hate
,
Homosexual Hate Speech
,
Media's Liberal Bias (General)
,
News
,
Oklahoma
,
Politicians & Public Officials
,
Sally Kern
,
The Bible, Churches, & Homosexuality
. You can follow any updates to this article through the
RSS 2.0
feed.