Lisa Miller twists Scripture as media seek to discredit Prop 8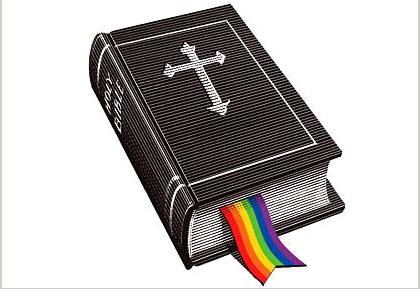 At right is a Newsweek graphic for its new, scandalous hit piece in support of homosexual "marriage." It appears the magazine's Religion Editor, Lisa Miller, is now a theological expert — declaring that — contrary to 2,000 years of Church history — the Word of God actually supports homosexual "love" and thus same-sex "marriages." Albert Mohler takes Miller's piece apart HERE. Readers might also check out Professor Rob Gagnon's website to learn what the Bible really says about homosexual practice.
American liberal media bias is out of control. Somebody get Newsweek's religion editor, Lisa Miller, a job with the "gay christian" (small "c") activist group Soulforce, where she belongs. Kudos to Albert Mohler for refuting her nonsense. And once again, American Family Association (AFA) provides a valuable service by helping Americans confront liberal media bias — in this case, Miller's embarrassing attempt t0 make a Biblical case for sodomy-based "marriage." — Peter LaBarbera
______________________________________
AFA sent out this E-Alert:
Take Action! 
Send an e-mail to Newsweek telling Newsweek you are disappointed with its distorted interpretation of scripture.
Forward this e-mail to your friends and family. They need to see how the media distorts scripture to support same-sex marriage. Ask them to send the e-mail to Newsweek.  Call CEO Thomas E. Ascheim at 212-445-5245. Please be polite.
If you subscribe to Newsweek, cancel your subscription and tell them why.
______________________________________
Please help us get this information into the hands of as many people as possible by forwarding it to your entire e-mail list of family and friends.
Newsweek trashes the Bible in support of homosexual "marriage"
Send an e-mail to Newsweek telling Newsweek you are disappointed with its distorted interpretation of scripture.
December 8, 2008
Dear Gary,
Newsweek magazine has published a lengthy article stating that the Bible supports homosexual marriage. The article was written Lisa Miller, Newsweek religion editor.
Miller's article is one of the most biased and distorted pieces concerning homosexual marriage ever published by any major news organization. The article is much too long for this e-mail.
Dr. Albert Mohler has offered a response to the Newsweek article. I suggest you read Mohler's article and then read Miller's Newsweek article.
Mohler made a significant point in his response: "The national news media are collectively embarrassed by the passage of Proposition 8 in California. Gay rights activists are publicly calling on the mainstream media to offer support for gay marriage, arguing that the media let them down in November. It appears that Newsweek intends to do its part to press for same-sex marriage. Many observers believe that the main obstacle to this agenda is a resolute opposition grounded in Christian conviction. Newsweek clearly intends to reduce that opposition."
This article was posted on Monday, December 8th, 2008 at 11:17 pm and is filed under
"Civil Unions" & "Gay Marriage"
,
"Civil Unions" & "Gay Marriage"
,
A - What does the Bible say about homosexuality?
,
Bible
,
D - GLBTQ Pressure Within Churches
,
Evangelicals
,
Gay and Christian?
,
Magazines
,
Media Promotion
,
Media's Liberal Bias (General)
,
News
,
The Bible, Churches, & Homosexuality
. You can follow any updates to this article through the
RSS 2.0
feed.