Lisa Miller twists Scripture as media seek to discredit Prop 8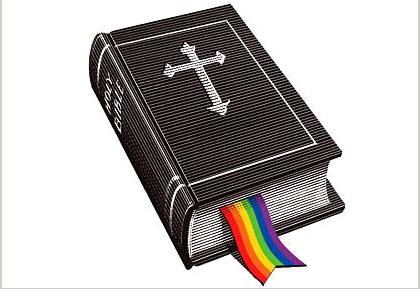 At right is a Newsweek graphic for its new, scandalous hit piece in support of homosexual "marriage." It appears the magazine's Religion Editor, Lisa Miller, is now a theological expert — declaring that — contrary to 2,000 years of Church history — the Word of God actually supports homosexual "love" and thus same-sex "marriages." Albert Mohler takes Miller's piece apart HERE. Readers might also check out Professor Rob Gagnon's website to learn what the Bible really says about homosexual practice.
American liberal media bias is out of control. Somebody get Newsweek's religion editor, Lisa Miller, a job with the "gay christian" (small "c") activist group Soulforce, where she belongs. Kudos to Albert Mohler for refuting her nonsense. And once again, American Family Association (AFA) provides a valuable service by helping Americans confront liberal media bias — in this case, Miller's embarrassing attempt t0 make a Biblical case for sodomy-based "marriage." — Peter LaBarbera
______________________________________
AFA sent out this E-Alert:
Take Action! 
Send an e-mail to Newsweek telling Newsweek you are disappointed with its distorted interpretation of scripture.
Forward this e-mail to your friends and family. They need to see how the media distorts scripture to support same-sex marriage. Ask them to send the e-mail to Newsweek.  Call CEO Thomas E. Ascheim at 212-445-5245. Please be polite.
If you subscribe to Newsweek, cancel your subscription and tell them why.
______________________________________
Please help us get this information into the hands of as many people as possible by forwarding it to your entire e-mail list of family and friends.

Read the rest of this article »