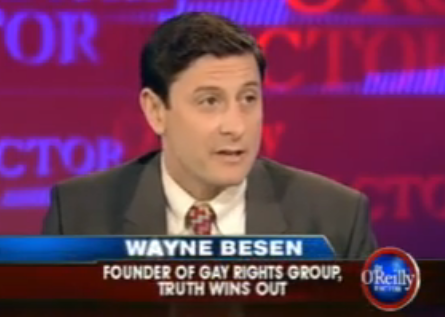 Besen Expands Definition of "Bigotry": "Gay" militant Wayne Besen — who targets former homosexuals for harassment disguised as activism (see below) — told FOX News' Bill O'Reilly last night that he considers opposition to same-sex "marriage" to be "bigotry" (See YouTube at end of piece below.) Homosexual activists for decades have labeled religious and moral conservatives as "haters" — and a proposed pro-homosexual federal "hate crimes" law would create the basis for their biased, anti-Christian viewpoint affecting federal prosecutions. In other countries, "hate crimes" laws have presaged "hate speech" codes that directly punish Christian speech opposing homosexuality or Islamic radicalism. TAKE ACTION: call your Congressman and Senators to oppose "Thought Crimes" legislation, H.R. 1913: 202-224-3121 or www.congress.org.
_________________________________________
The following release was sent out by PFOX April 7:
Contact:  Greg Quinlan, Parents and Friends of Ex-Gays & Gays (PFOX); PFOX@pfox.org
Gays Hating Ex-Gays
Hate Crimes Bill Introduced in Congress
A commentary by ex-gay Greg Quinlan
Washington D.C. – April 7, 2009/ What happens when ex-gays dare to come out of the closet?  When I helped staff the exhibit booth for the Ex-Gay Educators Caucus at the National Education Association conference in June 2006, Wayne Besen, the former spokesperson for the gay Human Rights Campaign, approached our booth and began to insult us for having the audacity to live as heterosexuals.  He took photos of our booth for his ex-gay bashing website which targets the ex-gay community for ridicule and harassment.  Mr. Besen and gay rights organizations do not believe ex-gays are entitled to the same rights and respect that gays currently enjoy.  They picket ex-gay conferences and protest vigorously against ex-gay equal access.
Read the rest of this article »