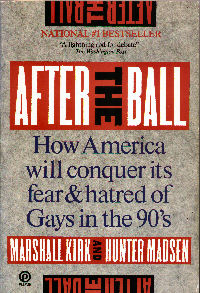 'Gay' Propaganda Tactics: In their 1989 book "After the Ball," homosexual ideologues Marshall Kirk and Hunter Madsen advised fellow "gay" activists to show the public "images of ranting homohaters whose associated traits and attitudes appall and anger Middle America" — by equating pro-family opponents to Nazis, the Klan, etc. Twenty years later, homosexuals are using the same dirty tactics against people of faith — suggesting that Christian and church opposition to homosexuality causes violence against homosexuals. Such lies are part of the Gay Lobby's ends-justifies-the-means campaign to win superior legal rights that undermine historic American religious freedoms.
Folks, below my friend Laurie Higgins ably rebuts the spurious, ongoing "gay" activist attempt to blame Christians and religious people for tragic, violent attacks on homosexuals, like the August 1 slaughter at a "gay youth" center in Tel Aviv. Many homosexual activists apparently are compelled by their rejection of Biblical morality to lie in such a way about Christians. (At the same time, they malign us for highlighting gay-on-gay violence and for pointing out the obvious: that homosexual practice threatens longevity.)  The claim that Christian, conservative and religious speech causes "anti-gay violence" will continue to be used to advance a totalitarian homosexualist agenda, here and abroad. All lovers of freedom must fight this Orwellian agenda that has as its end game the very destruction of liberty as we know it — all in the name of "civil rights." Please send this article to your friends. — Peter LaBarbera, www.americansfortruth.com
P.S. Unlike the National Gay and Lesbian Task Force, I would support the death penalty for the Tel Aviv murderer (though Israel abolished the death penalty for such crimes). That would be far more effective than "hate crimes" laws in deterring such attacks in the future.
_________________________________
Higgins writes:
Are Christians Responsible for Anti-Homosexual Bloodbath in Tel Aviv?
By Laurie Higgins, reprinted from Illinois Family Institute, 8/3/09
Yet another tragic, horrific, and utterly unjustifiable murder of homosexuals has taken place, this time in Tel Aviv, Israel at a youth center for homosexual teens. Saturday night [August 1], two were killed and thirteen wounded when a gunman opened fire in a club where homosexual teens meet. The unspeakable carnage exposes how very dark the mind of fallen humans can become.
And this recent mind-numbing crime provides yet another occasion for homosexual activists and those who support their social and political goals to lay an unbiblical, unchristian, indefensible crime at the feet of all Christians who hold biblical views on the nature and morality of homosexuality and who deplore murder.
Read the rest of this article »