Is the immoral vision of this homosexual revolutionary becoming America's reality?
NOTE TO READERS: the following Americans For Truth transcript, derived from an audiotape recording of a speech made at a 1997 GLSEN (Gay, Lesbian, Straight Education Network) conference, is at the source for the current "Harry Hay-NAMBLA" controversy surrounding GLSEN founder Kevin Jennings — President Obama's "Safe Schools" deputy at the Department of Education. (The left-wing group Media Matters cites it HERE.) This transcript was provided by Brian Burt, then a volunteer writer/reporter for the Americans For Truth publication "Lambda Report." We will endeavor to provide the tape to the public to counteract the absurd attempts to discredit this and other first-hand AFTAH reports on Jennings and GLSEN simply because AFTAH is a conservative organization. — Peter LaBarbera, President, Americans For Truth About Homosexuality, www.aftah.org
P.S. It would seem fairly easy for Jennings to clarify his position on NAMBLA — all he has to do is issue a clear statement of his opposition to this evil "man-boy love" organization. Homosexual activist groups and leaders similarly denounced NAMBLA — which marched in early "gay pride" parades and whose "right" to do so was enthusiastically defended by "gay" icon Harry Hay —  when they perceived that being tied to the notorious pederasty group was an impediment to their progress.
__________________________________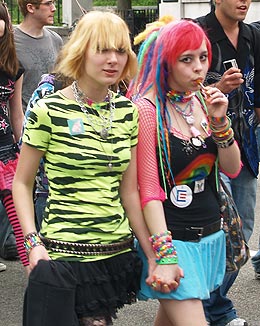 Have Kevin Jennings and GLSEN almost won? Obama Department of Education appointee Kevin Jennings looked forward to the day when people would shrug their shoulders at the news that "gay" groups like the one he founded (GLSEN) are "promoting homosexuality" in schools. Has America become so corrupt and decadent that this "queer" activist's twisted vision has become true?  TAKE ACTION: write Education Secretary Arne Duncan ([email protected]) or call him (202-401-3000) with the message that you do not want your tax dollars spent on "promoting homosexuality" in schools. Also, urge your Senators and Congressman (202-224-3121) to call on Duncan to withdraw the appointment of Jennings — an anti-religious bigot who said (in a church) "[F**k] 'em" and "Drop dead" to religious traditionalists — as "Safe School" Deputy Assistant Secretary at the Department of Education. Photo at left is from MassResistance's coverage of the 2009 homosexual "Youth Pride" parade.

The following transcript of a 1997 speech by Kevin Jennings is reprinted from the Lambda Report, Jan.-Feb. 1998 [LR, published by Peter LaBarbera, preceded Americans For Truth About Homosexuality]:
______________________________
GLSEN's Jennings: 'That is our mission from this day forward'
The following is a transcript of GLSEN founder and executive director Kevin Jennings' comments before "Looking to the Future" panel at GLSEN's Mid-Atlantic conference, held October 25, 1997 at the Grace Church School in New York City. A few incidental words and phrases have been removed for clarity:
Two years ago, one of our board members, one named Ann Simon, was called to testify before Congress when they had hearings on the promotion of homosexuality in schools. And we were busy putting out press releases, and saying, 'We're not promoting homosexuality, that's not what our program's about. Blah, blah, blah, blah, blah.' And my best friend, who's a straight women who lives in London, e-mailed me…and she said, 'So what if you are?' And I thought of how I can get so wrapped up in my own defensiveness, and…the day-to-day struggle, and stuff, that being finished might some day mean that most straight people, when they would hear that someone was promoting homosexuality, would say 'Yeah, who cares?' because they wouldn't necessarily equate homosexuality with something bad that you would not want to promote. And when we were talking there, and Mike said, 'You know, and I'd like five years from now—right now let's face it, for large swells of people they think of GLSEN and kids, and they think, 'GLSEN is bad for kids.' They do because of their stereotypes and misinformation—I'd like five years from now for most Americans when they hear the word GLSEN to think, 'Ooh, that's good for kids.''
Read the rest of this article »