On Roe v. Wade Anniversary — Think Abe Lincoln, Says Harrington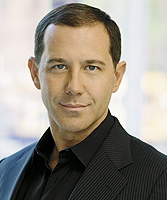 Joe Solmonese (left) went from helping to elect pro-abortion-on-demand Democrats at EMILY's List to advancing the pro-homosexuality/ -transsexuality agenda as president of the Human Rights Campaign. The twin evils of homosexuality and abortion share a common foundation: the elevation of self over transcendent truth and God's revealed will for men and women. Homosexual activists have been in the forefront of "defending" abortion centers against pro-lifers whose aim is merely to save innocent babies from destruction and persuade women NOT to make a decision that will haunt them the rest of their lives. Below is a photo of a fetus' feet at 10 weeks.
Folks, the issues of defending life and sexual morality are joined at the hip: each of the evil movements they oppose — the abortion and homosexuality lobbies — elevates mankind's selfish desires over God's will. Is it any wonder that the two greatest sin lobbies of today have as their sworn enemies the preservation of life and natural marriage and the God-ordained family? And this is not just theoretical: front-line, pro-life veterans such as Joe Scheidler tell me that over the years homosexual activists have been in the forefront of defending abortion "clinics" (killing centers) — to block the life-saving efforts of people trying to witness the truth about life to pregnant girls and women going into the death-centers to abort their own children.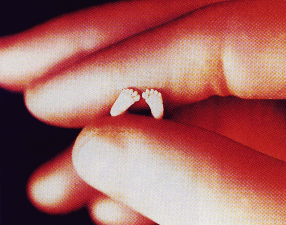 Curiously, homosexual groups like Human Rights Campaign (HRC) and the National Gay and Lesbian Task Force have incorporated abortion-related advocacy in their agendas. In fact, HRC's president, Joe Solmonese, is the former CEO of EMILY's List, described by Wikipedia as "one of the nation's prominent pro-choice Democratic political action committees." After helping to advance abortion, homosexuality and gender confusion, I don't know what's next on Joe's career path — perhaps Chairman of the Board for a major porn distribution company?
Read the rest of this article »